SELPHY CP1500: Print Fun Into Your Life
Canon's latest SELPHY compact photo printer is faster, better, and more fun than ever!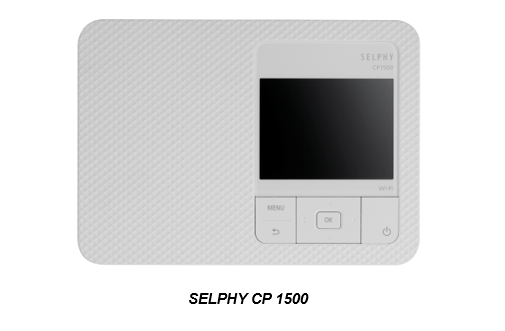 India, 12 July 2022 : Canon today announced the SELPHY CP1500, a new wireless compact photo printer that injects fun and spontaneity into your life. The SELPHY CP1500 is easy to use and promises to delight with personalized, high quality print-outs. Be it adorning your home with your favorite photo, making creative photo projects or sharing photos taken at events, the possibilities are endless. Available in black and white, the SELPHY CP1500 takes on a clean, minimalistic design which is aesthetically pleasing to the eye.
Bringing Print to Life
There is so much more that you can do with physical photo prints. You can say that compact photo printers like SELPHY print life into digital photos! Inheriting the imaging quality of the SELPHY series, the SELPHY CP1500 further enhances the vividness of portrait prints. In addition to the use of dye sublimation technology, which enables smoother colour tones and richer gradations, the SELPHY PRINTER CP 1500 comes with an automatic correction function that adjusts the brightness, saturation, contrast and tones in images for a better, clearer finish.
At the end of the printing process, a special overcoat finish is applied to protect the photo from water, dirt, colour fading, and even fingerprints. Whether the photo was a quick smartphone snapshot, or a photographic work shot on a camera, it will stay in pristine condition for up to 100 years when preserved in an album[1].
Adding Your Personal Touch
With the upgraded SELPHY Photo Layout 3.0 smartphone app, the SELPHY CP1500 also lets you add patterned overcoats to decorate your photos. Frame your image with stars or fill it with cascading flowers and other patterns to your heart's desire.
Users can personalise the print further by including a QR code - whether it links to a photo album, a video, an online map with the photo location or even a secret message just for the recipient, the possibilities are endless!
Experience the Joy of Sharing Moments Instantaneously in Print
With its simple, minimalistic design, the SELPHY CP1500 is not only small and light but also easy to operate. The ease of use expands to its high connectivity. Whether it's through Wi-Fi or a USB Type-C cable, users can print images from their smartphone, camera, or computer any time—or even just by directly inserting an SD card or USB flash drive.
For users printing from a mobile device, the upgraded SELPHY Photo Layout 3.0 smartphone app, supported on iOS, iPadOS, and Android OS[2], can now also access camera or smartphone images uploaded onto image.canon, social media, or elsewhere on the cloud, allowing them to be turned into high-quality prints easily.
At any one time, up to eight smartphones can be connected to the SELPHY CP1500, so it's perfect for shared use at parties and events. Pairing is quick and easy: simply scan a QR code with the SELPHY Photo Layout app to connect and let the fun begin!
Postcard sized prints (approx. 100 x 148mm) can be made in approximately 41 seconds while card-size prints (54 x 86mm) can be made in just around 23 seconds.
CP 1500, MRP: `11 995.00/U incl. of all taxes, will be available in stores from September
About Canon Group
Ever since its foundation in 1937, Canon is guided by the 'Kyosei' philosophy of living and working together for the common good. Canon strives to create and deliver world-class products, becoming a top global corporation by diversifying into new business fields throughout the world. Focusing on optical technologies, Canon produces office equipment, consumer and professional imaging devices, network cameras, healthcare, and industrial equipment. Through the close connection between its global head office in Tokyo and regional headquarters in America, Europe, Asia, Oceania, and regional headquarters in Japan, Canon combines its global and local operations organically. In 1996, Canon launched its Excellent Global Corporation Plan to serve society with advanced technologies and become a trustworthy and responsible corporate citizen. The year 2016 was the first year of Phase 5 of the Plan. Currently, Canon boasts a strong global presence of 376 subsidiaries all over the world, supported by 197,776 employees. (Data as of December 31, 2017)
About Canon India
Canon India Pvt. Ltd. is the sales and marketing subsidiary of Canon Inc., a world leader in imaging technologies. Set up in 1997, Canon India markets a comprehensive range of sophisticated contemporary digital imaging products and solutions in India. The company today has offices in 10 cities across India with warehousing facilities at 6 locations and employs over 1000 staff and over 850 channel partners. Canon India enjoys a vast retail presence across the country through Image Square stores, PIXMA Zones and BIS Lounges. Canon India's service reach extends to over 632 towns covering 19,118 PIN codes across India - which comprises of 188 Camera collection points, 15 Camera repair centers, 294 Printer repair centers, 191 Copier, Scanner and Large Format Printer Sales & Service dealers. (Data as of 19 April 2022)
In sync with its corporate tagline- 'Delighting You Always', reinforced by World-class technology, Canon offers an extended product portfolio, including Digital Production Printers, Large Format Printers, Commercial Printers, Multi-Functional Devices, Managed Document Services, Inkjet & Laser Printers, Document and Cheque Scanners, Digital Cameras, DSLRs, Mirrorless cameras, Cinematic Imaging Products, Surveillance cameras and Medical Imaging products catering to the multiple market segments of consumer, SME, B2B, Commercial, Government & PSUs.
---
[1] Album storability is a predicted value calculated according to the indoor heat resistance test method and life evaluation criteria of the Digital Colour Photo Print Stability Evaluation (JEITA CP-3901) standard published by JEITA (Japan Electronics and Information Technology Industries Association). Predicted values are based on tests assuming album storage in an environment with a temperature of 23°C and humidity of 50%. When the monochromatic/reflective optical density value (0.5, 1.0) decreases by 30% (set for each colour unit), and the discolouration density difference of Y, M, and C components (each component colour) in BK decreases by 15% etc. are determined as limit points.
[2] Compatible with devices running iOS 14 or later, iPadOS 14 or later, or Android 8 or later