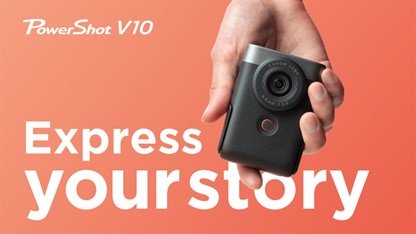 India, 11 May 2023 – Canon today announced the PowerShot V10, a new video-centric compact and stylish camera designed for smartphone natives. With its slim, ergonomic form factor and seamless, high-quality footage, the PowerShot V10 brings Canon's imaging technologies in pocketable design.
Small in Package, Big on Content
Beneath its small body, the PowerShot V10 is a content creation powerhouse. An integrated retractable, tiltable stand unfolds to provide tripod-like support whenever and wherever you need it: no more scrambling for random supportive objects that leave you with little control over your angles! There is also a built-in large-diameter three-element microphone that cancels noise and produces clear, high-quality audio, perfect for creating videos with that ASMR (Autonomous sensory meridian response) effect. It's your new 3-in-1 content creation kit essential for anything from travel vlogging to on-location livestreams. It fits in a small bag with room to spare, along with your smartphone, earbuds, and power bank.
Superior Image Quality
Canon's EOS imaging technology allows the PowerShot V10 to produce stunning, low-noise footage with vivid colours, even in low-light set up. Get ready to impress your audience with clear and beautiful footage from the PowerShot V10.
Easy Creation Regardless of Skill Level
With various shooting modes that include auto and manual exposure, and as many as 14 colour filters, the PowerShot V10 is equipped to help you achieve your ideal results regardless of your skill level or the extent you intend to edit your footage. You can experiment with different camera angles using the tilt-type screen, which lets you see and adjust high- and low-angle shots comfortably.Autofocus will prove to be a breeze even for beginners: While Face Tracking AF automatically detects and keeps your face in frame, you can also switch to Specified Frame AF to focus on wherever you tap. The new Movie Auto ND filter automatically turns the built-in 3-stop ND filter ON/OFF according to ambient brightness. Now you can record perfectly exposed transitions from the dim indoors to the sunny outdoors in one smooth take!The ergonomic vertical grip provides both right- and left-handers with a comfortable, stable hold, perfect for trying out new transitions or taking long hand-held videos such as virtual tours of your travel accommodation.Designed for ease of shooting, the lens' wide angle-of-view lets you record yourself with your friends and the background behind you. With 14 kinds of aspect ratio markers, you can be ensured that important elements are always perfectly framed even when your video are to be edited for sharing in SNS platforms.
Easy Livestreaming
The PowerShot V10 supports real-time delivery methods such as livestreaming, which can be done directly to Facebook or YouTube via the Camera Connect app without the hassle of complicated settings. This can be achieved even when you are out and about: simply tap on your smartphone's mobile network directly. Alternatively, you can also use the PowerShot V10 as a webcam via the plug-and-play USB-C connection.
| | | |
| --- | --- | --- |
| New Launch | MRP | Sales Date |
| PowerShot V10 | ₹ 39 995.00/U | June 2023 |
APPENDIX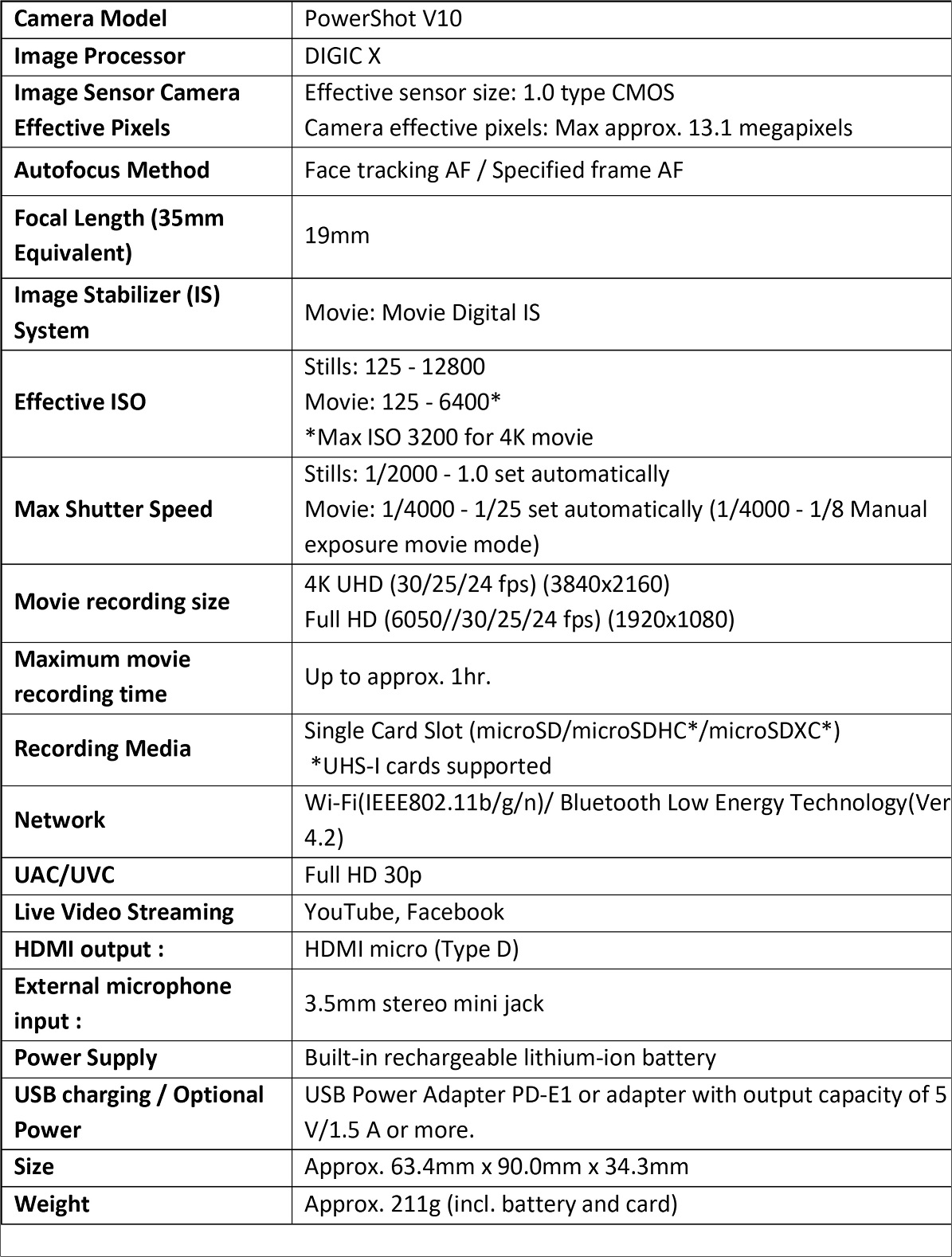 About Canon Inc.Canon Inc.
(NYSE: CAJ), headquartered in Tokyo, Japan, is a leader in the fields of professional and consumer imaging equipment, industrial equipment, and information systems. Canon's extensive range of products includes production printers, multifunction office systems, inkjet and laser printers, cameras, video and cinematography equipment, network cameras, medical systems, and semiconductor-manufacturing equipment. Originally established in 1937 as Precision Optical Industry, Co., Ltd., a camera manufacturer, Canon has successfully diversified and globalized to become a worldwide industry leader in professional and consumer imaging systems and solutions. With approximately 180,775 employees worldwide, the Canon Group includes manufacturing and marketing subsidiaries in Japan, the Americas, Europe, Asia and Oceania; and a global R&D network with companies based in the United States, Europe, Asia and Australia. Canon's consolidated net sales for fiscal 2022 (ended December 31, 2022) totaled $30.31 billion (at an exchange rate of ¥133=U.S. $1). Visit the Canon Inc. website at: global.canon
About Canon India Canon India Pvt. Ltd.
Is the sales and marketing subsidiary of Canon Inc., a world leader in imaging technologies. Having started its operations in 1997, Canon India markets a comprehensive range of sophisticated contemporary digital imaging products and solutions in India. The company today has offices in 10 cities across India with merchandise warehousing facilities at 4 location and employs over 1000 staff and over 850 channel partners. Canon India enjoys a vast retail presence across the country through Canon Image Square (CIS) stores, PIXMA Zones, and BIS Lounges. Canon India's service reach extends to over 632 towns covering 19,118 PIN codes across India – which comprises of 349 Camera collection points, 15 Camera repair centers, 316 Printer repair centers, 184 Copier, Scanner and 129 Large Format Printer Sales & Service dealers. (Data as of February 2023)
In sync with its corporate tagline- 'Delighting You Always', reinforced by World-class technology, Canon offers an extended product portfolio, including Digital Production Printers, Large Format Printers, Commercial Printers, Multi-Functional Devices, Managed Document Services, Inkjet & Laser Printers, Document and Cheque Scanners, Digital Cameras, DSLRs, Mirrorless cameras, Cinematic Imaging Products, Surveillance cameras and Medical Imaging products catering to the multiple market segments of consumer, SME, B2B, Commercial, Government & PSUs.