Canon's New RF100-300mm f/2.8L IS USM: Unprecedented Telephoto Versatility
Get the best of both worlds by capturing fast and far with the 100 to 300mm zoom range, while maintaining a constant aperture of f/2.8 for smooth bokeh.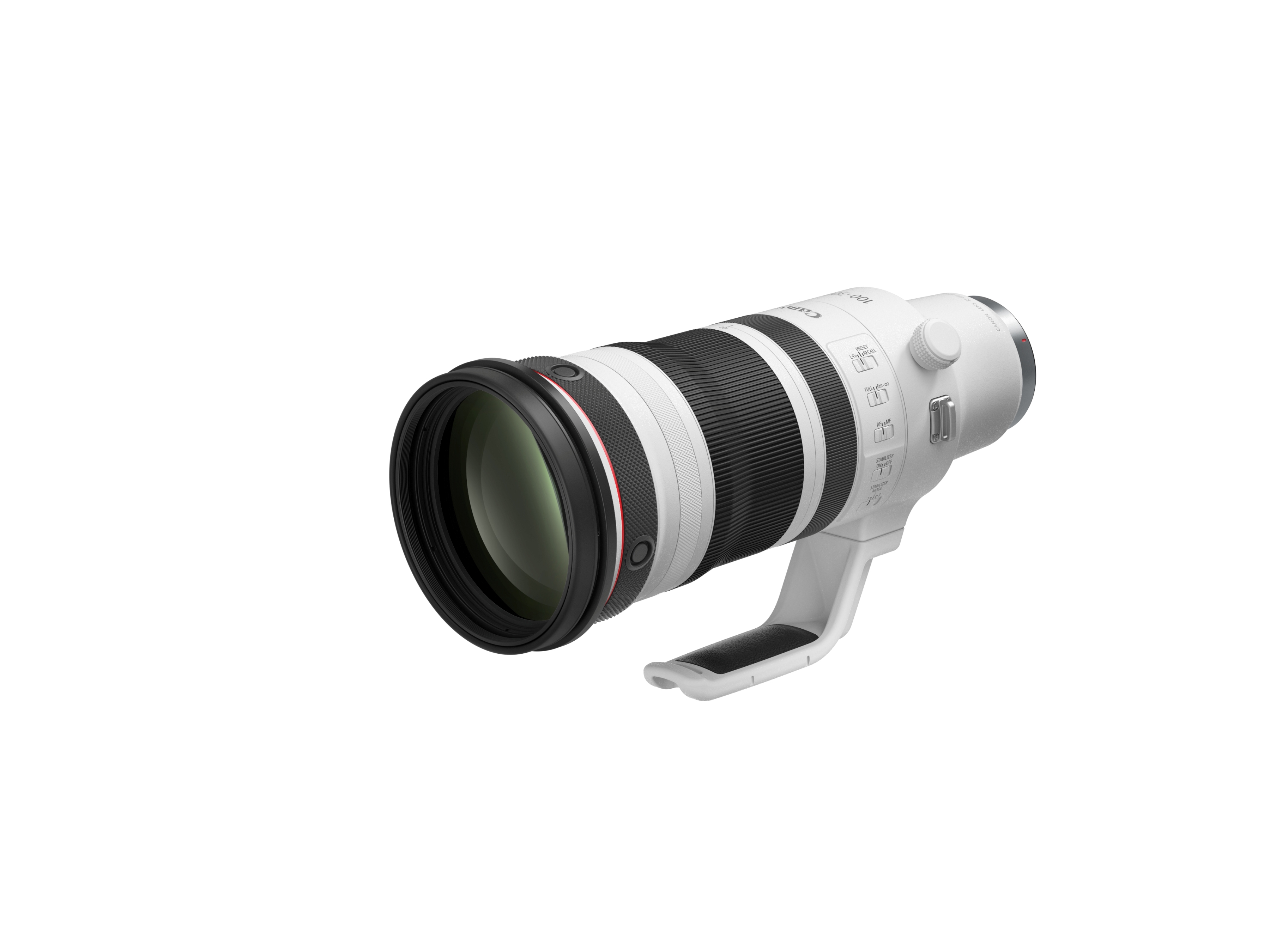 India, 20th April 2023 – Canon today announced the RF100-300mm f/2.8L IS USM, a class-leading professional telephoto zoom lens for the RF mount. As Canon's first-ever f/2.8 constant aperture zoom lens to cover the 100 to 300mm range, the new lens offers an unprecedented lightweight and versatile solution for sports, wildlife, and photographers who require extra reach while shooting at faster shutter speeds. The RF100-300mm f/2.8L IS USM innovates upon the EF300mm f/2.8L, a sports and action photography classic lens renowned for its technology and excellent optical quality.
The Speed and Flexibility to Capture Decisive Moments
f/2.8 constant aperture: Freeze action decisively from wide to close-up
The RF100-300mm f/2.8L IS USM's constant aperture design allows users to utilise the large f/2.8 maximum aperture throughout the entire zoom range, even at the 300mm tele end. With this, users can freeze decisive moments at faster shutter speeds, which gives them a better chance of getting their desired shots.
The distinctive, extremely creamy bokeh achieved through telephoto shooting at f/2.8 makes the RF100-300mm f/2.8L IS USM useful for creative expression even in genres such as portraiture, fashion, and weddings.
Zoom convenience: Multiple lenses in one lightweight body
The RF100-300mm f/2.8L IS USM's 100mm to 300mm zoom capability (160mm to 480mm on an APS-C camera) covers the range that typically requires at least two or three lenses to achieve (Combinations previously required to achieve 100-300mm at aperture f/2.8: 70-200mm f/2.8 lens + 300mm f/2.8 prime lens, or 100mm + 135mm + 300mm prime lenses). Users can now conveniently zoom to track and keep dynamic subjects, such as soccer ball or birds in flight within the frame, even in locations with restricted mobility. It also means less gear to carry.
Extender compatibility: Reach up to 960mm f/5.6
For occasions that require greater reach, simply attach one of the compact, lightweight RF extenders. With Extender RF2x, you can zoom up to 600mm (full-frame camera) or a whopping 960mm full-frame equivalent (APS-C camera/APS-C crop mode) while maintaining a maximum aperture of at least f/5.6!
The Lightest 300mm F/2.8 Constant Aperture Zoom Lens for Full-Frame Cameras on the Market[1] The RF100-300mm f/2.8L IS USM + EOS R3 combination is lighter than the EF200-400mm f/4L IS USM Extender 1.4x alone, weight over 1kg less. It also offers substantial mobility savings than the EF300mm f/2.8L IS II USM while offering 3x zoom functionality.
| | | |
| --- | --- | --- |
| Lens | Camera | Total Weight |
| RF100-300mm f/2.8L IS USM(approx. 2,590g) | EOS R3(approx. 1,022g) | approx. 3,612g[2] |
| EF200-400mm f/4L IS USM Extender 1.4x(approx. 3,620g) | Nil | Lens only: approx. 3,620g |
Fast Focusing, Optical Excellence
Driven by precise dual Nano USMs, AF is quick and accurate, complementing deep learning-based subject detection and tracking on cameras like the EOS R3. An innovative new electronic floating focus control system improves image quality while reducing weight, enhancing the signature RF mount L-series optical quality. This would enable sharp shots of swift action, right down to every sweat drop or feather detail.
The lens supports focus breathing correction during video shooting, delivering professional-looking footage straight out of the camera.
Other Notable Features
Up to 5.5 stops' in-lens image stabilisation[3]; up to 6 stops' image stabilisation through Coordinated Control IS[4]
IS Modes 1,2, and 3: for image stabilisation optimised for different shooting situations
5 customisable lens function buttons: for direct lens operation regardless of camera orientation
Signature white weather- and heat-resistant thermal barrier coating with matching Lens Hood ET-124
| | | |
| --- | --- | --- |
| New Launch | MRP | Sales Date |
| RF100-300mm f/2.8L IS USM | ₹ 919 995.00/U | May 2023 |
About Canon Inc.
Canon Inc. (NYSE: CAJ), headquartered in Tokyo, Japan, is a leader in the fields of professional and consumer imaging equipment, industrial equipment, and information systems. Canon's extensive range of products includes production printers, multifunction office systems, inkjet and laser printers, cameras, video and cinematography equipment, network cameras, medical systems and semiconductor-manufacturing equipment. Originally established in 1937 as Precision Optical Industry, Co., Ltd., a camera manufacturer, Canon has successfully diversified and globalized to become a worldwide industry leader in professional and consumer imaging systems and solutions. With approximately 180,775 employees worldwide, the Canon Group includes manufacturing and marketing subsidiaries in Japan, the Americas, Europe, Asia and Oceania; and a global R&D network with companies based in the United States, Europe, Asia and Australia. Canon's consolidated net sales for fiscal 2022 (ended December 31, 2022) totaled $30.31 billion (at an exchange rate of ¥133=U.S. $1). Visit the Canon Inc. website at: global.canon
About Canon India
Canon India Pvt. Ltd. Is the sales and marketing subsidiary of Canon Inc., a world leader in imaging technologies. Having started its operations in 1997, Canon India markets a comprehensive range of sophisticated contemporary digital imaging products and solutions in India. The company today has offices in 10 cities across India with merchandise warehousing facilities at 4 location and employs over 1000 staff and over 850 channel partners. Canon India enjoys a vast retail presence across the country through Canon Image Square (CIS) stores, PIXMA Zones, and BIS Lounges. Canon India's service reach extends to over 632 towns covering 19,118 PIN codes across India – which comprises of 349 Camera collection points, 15 Camera repair centers, 316 Printer repair centers, 184 Copier, Scanner and 129 Large Format Printer Sales & Service dealers. (Data as of February 2023)
In sync with its corporate tagline- 'Delighting You Always', reinforced by World-class technology, Canon offers an extended product portfolio, including Digital Production Printers, Large Format Printers, Commercial Printers, Multi-Functional Devices, Managed Document Services, Inkjet & Laser Printers, Document and Cheque Scanners, Digital Cameras, DSLRs, Mirrorless cameras, Cinematic Imaging Products, Surveillance cameras and Medical Imaging products catering to the multiple market segments of consumer, SME, B2B, Commercial, Government & PSUs.
---
[1] According to a survey by Canon. As of April 2023.
[2] Including eyecup ER-h, battery LP-E19 and 1 CFexpress card.
[3] Focal length: 300 mm; using EOS R; confirms to CIPA standards (yaw/pitch directions)
[4] With a compatible camera body, Focal length: 300 mm; using EOS R3; confirms to CIPA standards (yaw/pitch directions)