Canon India launches 16 new advanced printers, providing users with enhanced print quality, exceptional work efficiency and top-notch creativity
Catering to new age working requirements across Home, SOHOs, SMBs & Enterprise customers, Canon's new printers aim to be the ideal choice by enabling users to do much more.
For home and SOHO consumers: PIXMA G1730, G1770, G2770, G2730, G3770, G3730, G4770
The PIXMA printers maximize productivity with high print yields and affordable printing. Easy ink refilling and huge ink reservoirs underpin the key benefits of the series, enabling smooth operation for home and small offices, by minimizing the occurrence of ink running out in the middle of printing.
All new "S" mini–ink bottles
PIXMA G1730, G2730, G3730 comes bundled with all new GI 71s ink bottles. For moderate print volumes, users can now opt for low-cost ink refill bottles that deliver up to 3,900 pages[1] for black-and-white documents and 4,600 pages[1] for color documents. Users with very high print volumes can also opt for standard ink bottles that deliver up to 7,600 pages[1] for black-and-white documents and 8,100 pages[1] for color documents. This significantly reduces the need for frequent ink tank refills.
For SMB customers: MAXIFY GX3070, GX3072, GX4070
MAXIFY GX series lineup printers achieve low-cost printing and water-resistant printouts combined with a refillable ink tank system which make these printers the ideal choices for small and medium businesses to achieve maximum productivity gains.
For SMB and Enterprise customers: imageCLASS LBP121dn, LBP122dw, MF271dn, MF272dw, MF274dn, MF275dw. The all new imageCLASS laser printers are designed to improve productivity with high-speed printing up to 29 pm, auto-duplex printing and compact size. These printers use an all-in-one cartridge for easy replacement and lower downtimes.
Sharing his thoughts on the big announcement, Mr. Manabu Yamazaki, President & CEO, Canon India said, "The fast-changing hybrid landscape across sectors have led to significant infrastructural transformations, fueled by advancements in technology. Taking cognizance of these evolving market requirements, we are excited to introduce 16 new state-of-the-art printers; which offer a perfect blend of modern technology and cost-efficiency for users, building on Canon's long standing legacy of innovation and customer delight. With this portfolio expansion, we want to fortify the printing culture amongst users by providing them with solutions that add value to their work in this current hybrid working environment, hence giving them more reasons to print. We are confident that our new products will empower our customers in their business journey and thereby help us in clocking a 30% market share in the industry."
Speaking about the new line-up, Mr. C Sukumaran, Senior Director, Product & Communication, Canon India said, "Canon India is committed to innovation and quality-first approach, and the new line-up of printers is no exception to this mission. Adapting to the culture of hybrid and digital workforce in today's time, professionals across SOHO, SMEs, Government, Home segment and Corporates are seeking infrastructure that improves functionality and productivity while providing maximum ROI. The new range of printers have been developed with a focus on providing users with the most cost-effective workflows and ergonomically advanced solutions that improve operational efficiency. Moreover, the new laser printers come with advanced high level data security & encryption features, making them an ideal choice for small businesses and enterprise customers. With the launch of these printers, we aim to create new avenues for printing, along with maximizing the reach and accessibility across user segments."
Easy Maintenance for Minimal Downtime
The new Canon G series printers feature user-replaceable maintenance cartridges that can easily be purchased off the shelves. Replacement is easy, without complex steps, so users can save a trip to the service center.
Versatile Printing Made Easy
The intuitive Canon PRINT Inkjet/SELPHY app provides a user-friendly and seamless setup for wireless printing, copying, and scanning from mobile devices. It also allows for easy monitoring of printer status and ink levels and provides access to cloud services, enhancing control and flexibility.For effortless printing, the Easy-PhotoPrint Editor app offers customizable templates for various printing needs, including postcards, collages, calendars, and even business cards. It's available on iOS, Android OS, Windows, and macOS platforms.
Windows OS users can benefit from the Easy-Layout Editor app, which supports editing and content-layout for various file types, including documents and web pages. The Collation Print feature combines files with different formats into a single document for printing, while the free layout option allows users to arrange and print content as they desire.
Design Custom Posters and Flyers with PosterArtist Web Application
PosterArtist's web application is a convenient and free tool for creating professional-quality posters and flyers. With easy accessibility from any location, home and business users can benefit from the flexibility and guidance provided by the application throughout the design process. The web application offers a vast selection of designs, images, templates, fonts, clipart, and icons that users can choose from to create unique flyers and posters for various business needs.
Pricing and Availability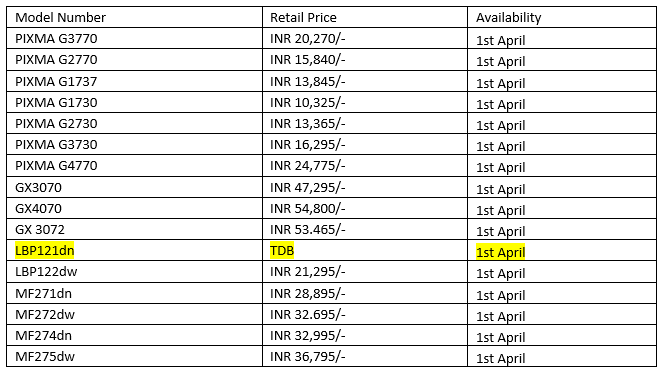 About Canon Inc.
Canon Inc. (NYSE: CAJ), headquartered in Tokyo, Japan, is a leader in the fields of professional and consumer imaging equipment, industrial equipment and information systems. Canon's extensive range of products includes production printers, multifunction office systems, inkjet and laser printers, cameras, video and cinematography equipment, network cameras, medical systems and semiconductor-manufacturing equipment. Originally established in 1937 as Precision Optical Industry, Co., Ltd., a camera manufacturer, Canon has successfully diversified and globalized to become a worldwide industry leader in professional and consumer imaging systems and solutions. With approximately 180,775 employees worldwide, the Canon Group includes manufacturing and marketing subsidiaries in Japan, the Americas, Europe, Asia and Oceania; and a global R&D network with companies based in the United States, Europe, Asia and Australia. Canon's consolidated net sales for fiscal 2022 (ended December 31, 2022) totaled $30.31 billion (at an exchange rate of \133=U.S. $1). Visit the Canon Inc. website at: global.canon
About Canon India
Canon India Pvt. Ltd. Is the sales and marketing subsidiary of Canon Inc., a world leader in imaging technologies. Having started its operations in 1997, Canon India markets a comprehensive range of sophisticated contemporary digital imaging products and solutions in India. The company today has offices in 10 cities across India with merchandise warehousing facilities at 4 location and employs over 1000 staff and over 850 channel partners. Canon India enjoys a vast retail presence across the country through Canon Image Square (CIS) stores, PIXMA Zones, and BIS Lounges. Canon India's service reach extends to over 632 towns covering 19,118 PIN codes across India – which comprises of 349 Camera collection points, 15 Camera repair centers, 316 Printer repair centers, 184 Copier, Scanner and 129 Large Format Printer Sales & Service dealers. (Data as of February 2023)
In sync with its corporate tagline- 'Delighting You Always', reinforced by World-class technology, Canon offers an extended product portfolio, including Digital Production Printers, Large Format Printers, Commercial Printers, Multi-Functional Devices, Managed Document Services, Inkjet & Laser Printers, Document and Cheque Scanners, Digital Cameras, DSLRs, Mirrorless cameras, Cinematic Imaging Products, Surveillance cameras and Medical Imaging products catering to the multiple market segments of consumer, SME, B2B, Commercial, Government & PSUs.
[1] Inkjet printer page yield is based on the consumption data from the succeeding ink bottles but not the included ink bottles. Colour document page yield is the estimated value based on Canon individual test method using the ISO/IEC 24712 colour chart and continuous printing simulation with the replacement after initial setup.