Canon India announces strategic collaboration with ESET; forays into cyber-security domain
With this collaboration, Canon India will leverage ESET's expertise in digital security to provide end-to-end cybersecurity solutions for organizations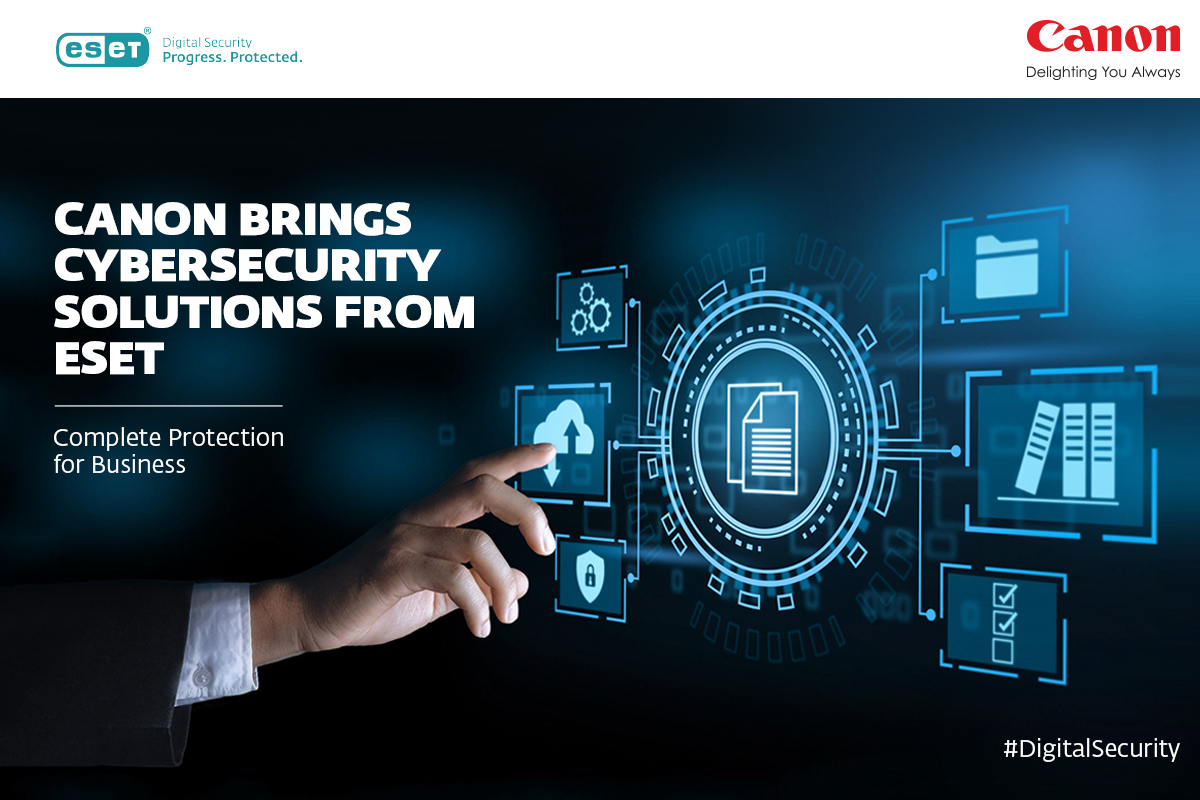 India, 19th April 2023 - Expanding its diverse office automation solutions portfolio, Canon India, one of the leading digital imaging solutions companies, today announced a strategic partnership with ESET, a global leader in cybersecurity. Demonstrating its philosophy of #BusinessCanBeSimple, through this alliance, Canon will support all round digital transformation journey of its customers across organizations.
As more and more businesses digitalize and adopt hybrid working, the risk of cyberattacks and data breaches has become a major concern. Cybercriminals constantly evolve their tactics, making it difficult for companies to keep up with the latest threats. With this partnership, Canon India and ESET will work together to provide comprehensive, cybersecurity solutions including the ESET PROTECT platform that enables businesses of all sizes to protect themselves from advanced cyberthreats, such as targeted attacks, ransomware, zero-day threats, advanced persistent threats and phishing attacks. The solutions can be deployed on-premise or from the cloud.
In addition, Canon's expertise in infrastructure, application, and automation allows the company to offer end-to-end service support, including professional consultation and seamless deployment. Canon understands the importance of adapting to the current digital landscape and is committed to helping businesses succeed in this new paradigm.
Canon has a long-standing reputation for helping businesses of all sizes achieve these objectives and drive digital transformation through its diverse solutions. With the pandemic accelerating the need for digital transformation and necessitating the implementation of hybrid work arrangements by businesses, this partnership comes as yet another significant step that Canon has taken to effectively optimise and secure the business infrastructure of its customers.
Speaking on the announcement, Mr. Manabu Yamazaki, President & CEO, Canon India said, "With digitalization becoming core to multiple business operations, companies across the globe have been pushing boundaries when it comes to technological adoption in their infrastructure. The need for digital transformation is particularly being observed more in the SME segment as they manage and absorb the changes of the new normal post-pandemic. This rapid adoption of digitalization has also created new challenges and threats, making cybersecurity among the top priorities for businesses, especially with cyber-attacks becoming more frequent and sophisticated in recent times. With the introduction of ESET solutions to our office automation gamut, we are enabling our customers to stay one step ahead of potential threats and provide them with an efficient and secure digital network."
Commenting about the partnership, Mr. Parvinder Walia, ESET President for APJ, said "We understand the challenges that Indian businesses face in the current cybersecurity landscape, and we are committed to helping them stay protected. By combining ESET's expertise in cybersecurity with Canon India's extensive sales network, organisations of all sizes across the country will have easy access to enterprise-grade cybersecurity solutions and excellent customer support and enablement." Walia added "Canon Marketing Japan and ESET have 20 years of partnership in the Japanese market where ESET is among the top three vendors, and have won many accolades, including the prestigious Nikkei customer satisfaction award for ten times in a row. It's a testimony of ESET's product quality with support of Canon's sales and support. ESET expects to replicate the success In the Indian market."
ESET's solutions provide multi-layered protection with a combination of technologies, such as behaviour-based detection and cloud-based analysis, ensuring comprehensive security. In addition, ESET's lightweight solutions also come with a user-friendly interface and intuitive security alerts and notifications, including anti-spam, anti-phishing, and anti-theft protection for complete digital device and data security.
With over 30 years of innovation in the cybersecurity space, ESET protects over 110 million users across 200 countries and territories by offering a range of security products and services.
About Canon Inc.
Canon Inc. (NYSE: CAJ), headquartered in Tokyo, Japan, is a leader in the fields of professional and consumer imaging equipment, industrial equipment, and information systems. Canon's extensive range of products includes production printers, multifunction office systems, inkjet and laser printers, cameras, video and cinematography equipment, network cameras, medical systems and semiconductor-manufacturing equipment. Originally established in 1937 as Precision Optical Industry, Co., Ltd., a camera manufacturer, Canon has successfully diversified and globalized to become a worldwide industry leader in professional and consumer imaging systems and solutions. With approximately 180,775 employees worldwide, the Canon Group includes manufacturing and marketing subsidiaries in Japan, the Americas, Europe, Asia and Oceania; and a global R&D network with companies based in the United States, Europe, Asia and Australia. Canon's consolidated net sales for fiscal 2022 (ended December 31, 2022) totaled $30.31 billion (at an exchange rate of ¥133=U.S. $1). Visit the Canon Inc. website at: global.canon
About Canon India
Canon India Pvt. Ltd. Is the sales and marketing subsidiary of Canon Inc., a world leader in imaging technologies. Having started its operations in 1997, Canon India markets a comprehensive range of sophisticated contemporary digital imaging products and solutions in India. The company today has offices in 10 cities across India with merchandise warehousing facilities at 4 location and employs over 1000 staff and over 850 channel partners. Canon India enjoys a vast retail presence across the country through Canon Image Square (CIS) stores, PIXMA Zones, and BIS Lounges. Canon India's service reach extends to over 632 towns covering 19,118 PIN codes across India – which comprises of 349 Camera collection points, 15 Camera repair centers, 316 Printer repair centers, 184 Copier, Scanner and 129 Large Format Printer Sales & Service dealers. (Data as of February 2023)
In sync with its corporate tagline- 'Delighting You Always', reinforced by World-class technology, Canon offers an extended product portfolio, including Digital Production Printers, Large Format Printers, Commercial Printers, Multi-Functional Devices, Managed Document Services, Inkjet & Laser Printers, Document and Cheque Scanners, Digital Cameras, DSLRs, Mirrorless cameras, Cinematic Imaging Products, Surveillance cameras and Medical Imaging products catering to the multiple market segments of consumer, SME, B2B, Commercial, Government & PSUs.
About ESET
For more than 30 years, ESET® has been developing industry-leading IT security software and services to protect businesses, critical infrastructure, and consumers worldwide from increasingly sophisticated digital threats. From endpoint and mobile security to endpoint detection and response, as well as encryption and multifactor authentication, ESET's high-performing, easy-to-use solutions unobtrusively protect and monitor 24/7, updating defenses in real time to keep users safe and businesses running without interruption. Evolving threats require an evolving IT security company that enables the safe use of technology. This is backed by ESET's R&D centers worldwide, working in support of our shared future. For more information, visit www.eset.com or follow us on LinkedIn, Facebook, and Twitter.