Canon India launches compact EOS R100 and RF Mount's First-ever Pancake Lens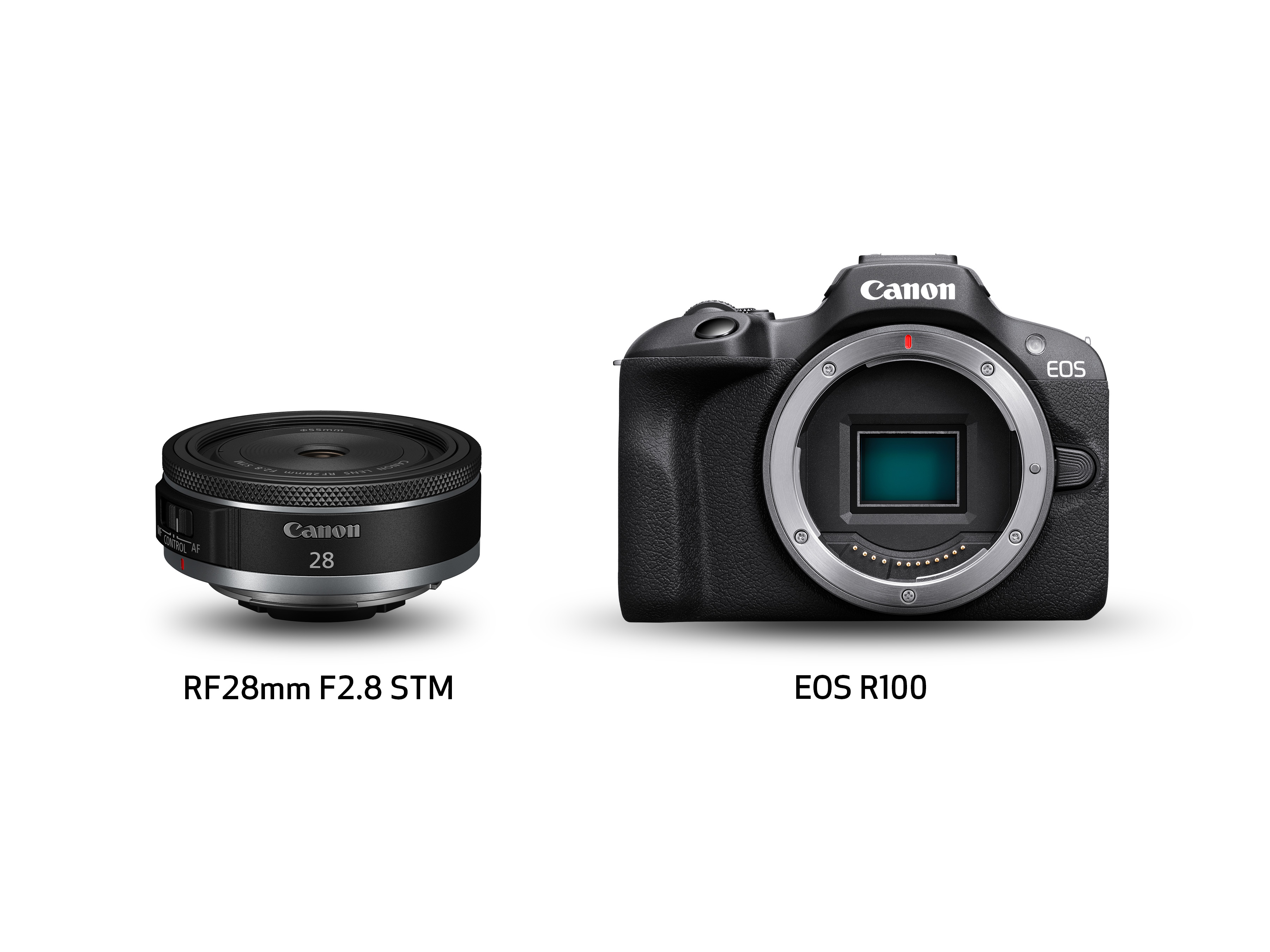 India, 24 May 2023 – Bolstering it's the presence in the mirrorless market, Canon India today announced the launch of the EOS R100, its most compact, lightweight, and affordable EOS R system camera. Along with this, it also introduced the RF28mm f/2.8 STM lens, which is the first-ever "pancake" prime lens in the RF lens line-up capable of providing exceptional image quality in a remarkably small and portable form.These new launches are a testament to Canon India's commitment to support varied photography needs while delivering the best quality possible at different budget points. With the EOS R100, Canon hopes to enable a new group of users to discover the delight of shooting with the EOS R system. On the other hand, keeping in mind the increased demand for pancake lenses that have minimal impact on the size and weight of a camera, the new lens has been developed based on photographers' inputs.
Canon EOS R100
Superior Image Quality Anywhere, Anytime
The EOS R100 delivers clear and sharp images with beautifully resolved details through its APS-C size CMOS image sensor. As Canon's smallest, lightest EOS R series camera, weighing around the same as a 330ml canned drink at approx. 356g[1], it is easy to slip into your everyday bag and carry around, ready to capture fleeting moments and cherished memories. With Bluetooth and Wi-Fi connection, you can share your pictures to social media easily through the Canon Camera Connect app via your smartphone.[1] According to CIPA standards, including the battery and memory card.
[1] According to CIPA standards, including the battery and memory card.
Elevate Your Shooting Experience
Designed with a viewfinder and generous grip, these features will ease your transition to start shooting like a professional photographer. The clear, high-definition built-in electronic viewfinder (EVF) provides better visibility outdoors under strong sunlight, while the rubberised textured grip allows a firmer, more stable hold on the camera, helping you nail steady shots.
Get Great Shots with Ease
Fast, highly accurate autofocusing, supported by Eye and Face Detection, detects and follows subjects over a wide area of the image, so it is easier to capture amazingly sharp pictures of people and objects even if they fidget or move across the frame. With a compatible lens, including your kit lens, you can also enjoy image stabilisation, which enables you to snap sharper handheld photos even in dim lighting. A convenient built-in flash helps you get well-lit shots in darker scenes or backlight, with flash power control options that you can utilise for creativity.
Exploring Video Creation
You can even create videos without shooting video, which is great for getting started without worrying about story concepts or editing. The Hybrid Auto mode turns your still photos and video snippets into a digest movie of the day's activities while the 4K Timelapse Video mode automatically takes shots of a scene at predetermined intervals and stitches them into a high-resolution video, all with pristine image quality and details. For more hands-on video content creation, features like 4K video shooting and slow-motion movies with 120p high frame rate recording are available. With Eye Detection AF and Movie Digital IS function in movie mode, you can keep people in focus and ensure stable footage even if you are shooting while walking.
Customise Your Style
The EOS R100 offers multiple ways to create images regardless of your skillset when it comes to photography or your familiarity with manual controls and technical photography terms. Besides the typical DSLR and mirrorless camera controls, there is the Creative Assist mode, which lets you change settings using layman terms, such as "Background blur", "Brightness", and "Saturation". Alternatively, you could also use the Scene modes and Scene Intelligent Auto, where the camera chooses the best settings for your scene or ideal outcome. Creative filters under the in-camera presets is yet another option that allows you to change the look and finish of your images to express your individual style.
A Vast Selection of Lenses to Create With
The imaging possibilities are endless with a mirrorless camera – change your lenses and watch your perspective transform along with it! The EOS R100 is directly compatible with over 30 RF and RF-S lenses in the ever-growing RF lens line-up, which let you go wider, closer, reach further, or create beautiful, dreamy bokeh effects. It can also be paired with over 80 EF lenses via the EF-EOS R Mount Adapter.
RF28mm f/2.8 STM
Slim Pocketable Body, Outstanding MobilityAt less than 2.5cm long when retracted and weighing no more than a bar of soap at around 120g, the RF28mm f/2.8 STM is thin just like the word "pancake" suggests. It barely adds to the size and weight of your camera—you could even use it in place of a lens cap! Enjoy the lightest, flattest, and most portable combination possible with your full-frame or APS-C camera, whether you are travelling light, exploring the streets, shooting long videos or vlogs handheld.
Excellent Image Quality
Designed with an efficient optical layout comprising three large-diameter plastic-molded aspherical lens, the RF28mm f/2.8 STM offers excellent sharpness and clarity from the image centre to the edges, within a compact package. The image quality is a notch above that of the EF40mm f/2.8 STM and RF50mm f/1.8 STM, which are known for their superior performance.
Versatile Focal Length on Both Full-frame and APS-C
With its wide f/2.8 aperture, the RF28mm f/2.8 STM offers beautiful bokeh along with the speed necessary for freezing fast motion and achieving sharper handheld shots in low-light situations. The versatile 28mm focal length is just enough to easily frame a wide range of scenes on both APS-C and full-frame cameras. On full-frame cameras such as the EOS R8 and EOS R6 Mark II, it provides a wide angle-of-view that can capture landscapes and cityscapes with the right amount of perspective, or portraits that show ample background context without the subject appearing too small in the frame.On APS-C cameras such as the EOS R50 and the EOS R7, it offers a standard angle-of-view equivalent to 45mm on a full-frame camera, providing a natural perspective that is easy to compose with. Half-body portraits are possible from a comfortable distance away—close enough to communicate without getting in your subject's face! Pair it with the new EOS R100 to get the smallest combination possible.With its high mobility, image quality, and easy-to-use focal length, one might be inspired to move around and get creative. New angles and perspectives are just a tilt and a step away.
APPENDIX



About Canon Inc.
Canon Inc. (NYSE: CAJ), headquartered in Tokyo, Japan, is a leader in the fields of professional and consumer imaging equipment, industrial equipment, and information systems. Canon's extensive range of products includes production printers, multifunction office systems, inkjet and laser printers, cameras, video and cinematography equipment, network cameras, medical systems and semiconductor-manufacturing equipment. Originally established in 1937 as Precision Optical Industry, Co., Ltd., a camera manufacturer, Canon has successfully diversified and globalized to become a worldwide industry leader in professional and consumer imaging systems and solutions. With approximately 180,775 employees worldwide, the Canon Group includes manufacturing and marketing subsidiaries in Japan, the Americas, Europe, Asia and Oceania; and a global R&D network with companies based in the United States, Europe, Asia and Australia. Canon's consolidated net sales for fiscal 2022 (ended December 31, 2022) totaled $30.31 billion (at an exchange rate of ¥133=U.S. $1). Visit the Canon Inc. website at: global.canon
About Canon India
Canon India Pvt. Ltd. Is the sales and marketing subsidiary of Canon Inc., a world leader in imaging technologies. Having started its operations in 1997, Canon India markets a comprehensive range of sophisticated contemporary digital imaging products and solutions in India. The company today has offices in 10 cities across India with merchandise warehousing facilities at 4 location and employs over 1000 staff and over 850 channel partners. Canon India enjoys a vast retail presence across the country through Canon Image Square (CIS) stores, PIXMA Zones, and BIS Lounges. Canon India's service reach extends to over 632 towns covering 19,118 PIN codes across India – which comprises of 349 Camera collection points, 15 Camera repair centers, 316 Printer repair centers, 184 Copier, Scanner and 129 Large Format Printer Sales & Service dealers. (Data as of February 2023) In sync with its corporate tagline- 'Delighting You Always', reinforced by World-class technology, Canon offers an extended product portfolio, including Digital Production Printers, Large Format Printers, Commercial Printers, Multi-Functional Devices, Managed Document Services, Inkjet & Laser Printers, Document and Cheque Scanners, Digital Cameras, DSLRs, Mirrorless cameras, Cinematic Imaging Products, Surveillance cameras and Medical Imaging products catering to the multiple market segments of consumer, SME, B2B, Commercial, Government & PSUs.