Canon introduces all new imagePRESS V1350, defining new standardsof efficiency and performance in Color Production Printing
The new imagePRESS V1350 is designed to help customers improve productivity and produce high quality applications efficiently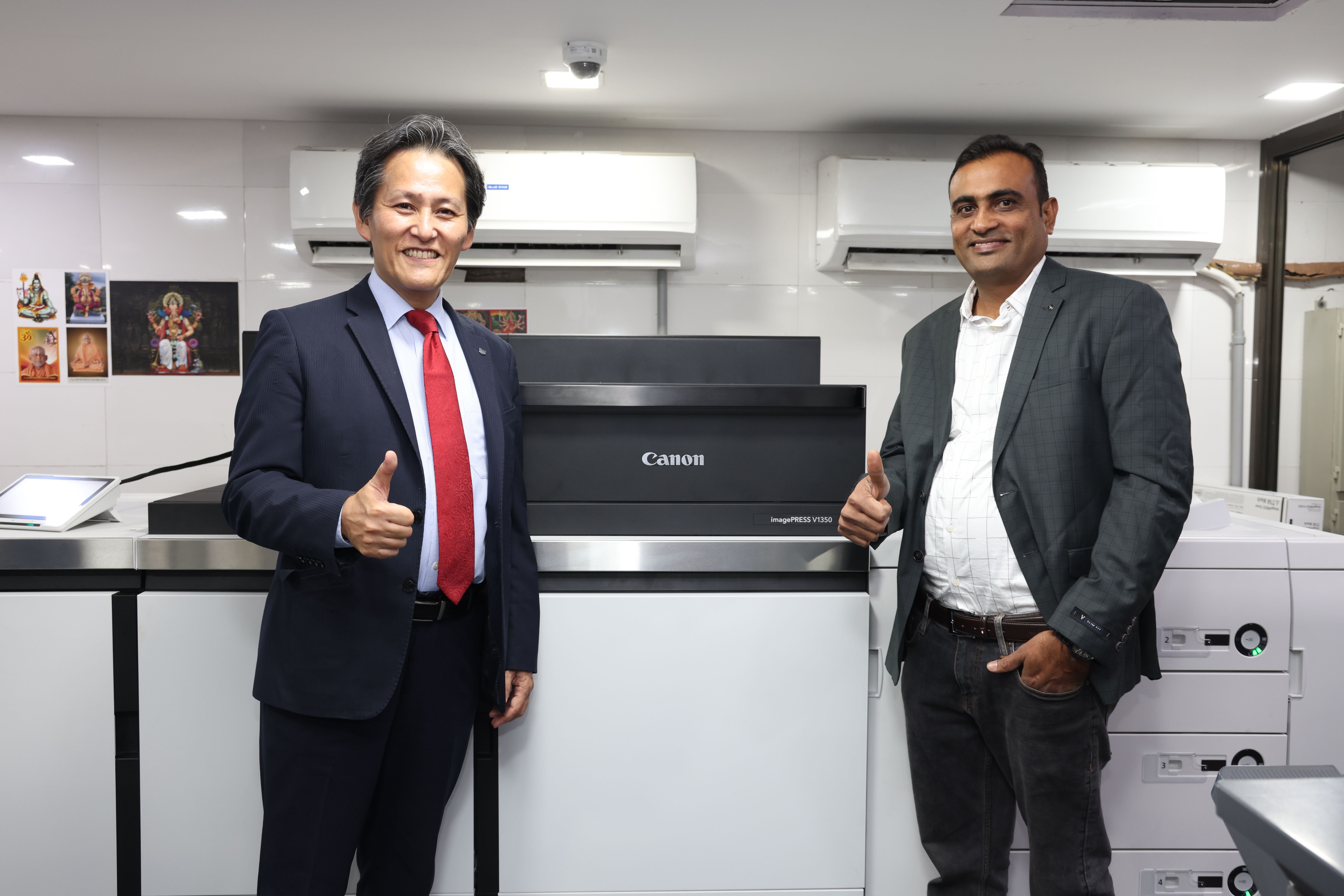 Mumbai, 31 st October 2023: Committed to lead by innovation, Canon India, one of the leaders in thedigital imaging industry, today announced the launch of the all-new imagePRESS V1350. Assisting highproduction segments in redefining their printing capabilities, the digital colour press printer brings in 'The X-Factor' with eXtra focus on Speed, Durability, Versatility and Precision.
The imagePRESS V1350 is the latest addition to Canon's existing fleet of new generation imagePRESS VSeries Printers which includes imagePRESS V1000/V900/V800/V700. Designed to propel businesses tonew heights and set a new standard in printing excellence, the imagePRESS V1350 enables Jobbers(print for pay), Offset Printers and in-house Print Service Providers (PSPs) to overcome productionchallenges and meet customer demands for high-quality and time-sensitive print content.
Speaking on the launch of V1350, Mr. Manabu Yamazaki, President and CEO, Canon India, said, "Earlierthis year, we set a new benchmark with the introduction of new generation of imagePRESS V series, forwhich we have received extremely positive response. Today, we proudly expand the line-up with thelaunch of imagePRESS V1350, a product which is set to transform the way businesses approach theirprinting needs. Demonstrating superior performance with an extraordinary emphasis on Speed,Durability, and Precision, this printer is set to empower users by helping them to evolve as per industrystandards and surge ahead, revolutionizing the printing experience in the process."
Prince Graphics, Mumbai has become the first customer to unveil and install the imagePRESS V1350 inIndia.
Talking about his experience with Canon and the recent installation, Rajesh Mandora, Owner, Prince Graphics said, "We have been using Canon imagePRESS products for many years and recently chose theCanon imagePRESS V1350 for its impressive print speed of 135 ppm, a 35% increase compared to anyproduction printers we've used in the past. Along with an impressive Fiery Server and fast processingcapabilities, the machine also provides excellent flexibility for a variety of media types like stickers,boards, textures, synthetic papers etc. With enhanced productivity and efficiency every day, we will beable to expand our customer base significantly, thereby scaling business growth. With all these featuresand the commendable service support provided by Canon, I am confident about the ROI that imagePRESSV1350 will offer, becoming a go-to product for Prince Graphics."
Key features of imagePRESS V1350
eXtra Speed and Versatility
The imagePRESS V1350 showcases an incredible printing speed of 135 pages per minute & standard EFIHyper RIP (32GB and an Intel Xeon processor), establishing it as a powerhouse in terms of productivity.Additionally, its support for media up to 500gsm expands the range of printing possibilities, making it aversatile solution for various applications. Equipped with a vacuum-feeding mechanism, flatter papertransport path, advanced Print on Demand-Surface Rapid Fusing (POD-SURF) unit and integrated coolingsystem, the imagePRESS V1350 supports uninterrupted high-speed printing and allows PSPs to fulfilldemanding print jobs with a short turnaround time for maximum productivity.
eXtra Durability
The V1350 boasts an impressive duty cycle, which can handle up to 2.4 million A4 prints. This level ofdurability ensures that the printer is ready to meet the demands of even the most heavy-duty printingenvironments.
Unmatched eXtra Precision
Featuring a best-in-class registration mechanism and a real-time MULTI-DAT color correction systemthat automatically maintains color stability during continuous runs, the V1350 offers unmatchedprecision in every printing task. This potent combination guarantees flawless execution even for themost intricate printing jobs. The printer is also designed to create a wide range of high-qualityapplications, including brochures, leaflets, booklets, direct mail, and cards. It maintains real-timeregistration alignment and color consistency across a diverse array of substrates, with support formaterials up to 500 gsm, such as large-sized envelopes, textured stocks, and synthetic media.
About Canon Inc.
Canon Inc. (NYSE: CAJ), headquartered in Tokyo, Japan, is a leader in the fields of professional andconsumer imaging equipment, industrial equipment, and information systems. Canon's extensive rangeof products includes production printers, multifunction office systems, inkjet and laser printers,cameras, video and cinematography equipment, network cameras, medical systems and semiconductor-manufacturing equipment. Originally established in 1937 as Precision Optical Industry, Co., Ltd., acamera manufacturer, Canon has successfully diversified and globalized to become a worldwide industryleader in professional and consumer imaging systems and solutions. With approximately 180,775employees worldwide, the Canon Group includes manufacturing and marketing subsidiaries in Japan,the Americas, Europe, Asia and Oceania; and a global R&D network with companies based in the UnitedStates, Europe, Asia and Australia. Canon's consolidated net sales for fiscal 2022 (ended December 31,2022) totaled $30.31 billion (at an exchange rate of ¥133=U.S. $1). Visit the Canon Inc. website at:global.canon
About Canon India
Canon India Pvt. Ltd. Is the sales and marketing subsidiary of Canon Inc., a world leader in imaging technologies. Having started its operations in 1997, Canon India markets a comprehensive range ofsophisticated contemporary digital imaging products and solutions in India. The company today hasoffices in 10 cities across India with merchandise warehousing facilities at 4 location and employs over1000 staff and over 850 channel partners. Canon India enjoys a vast retail presence across the countrythrough Canon Image Square (CIS) stores, PIXMA Zones, and BIS Lounges. Canon India's service reachextends to over 632 towns covering 19,118 PIN codes across India – which comprises of 349 Cameracollection points, 15 Camera repair centers, 322 Printer repair centers, 184 Copier, Scanner and 129Large Format Printer Sales & Service dealers. (Data as of August 2023)In sync with its corporate tagline- 'Delighting You Always', reinforced by World-class technology, Canonoffers an extended product portfolio, including Digital Production Printers, Large Format Printers,Commercial Printers, Multi-Functional Devices, Managed Document Services, Inkjet & Laser Printers,Document and Cheque Scanners, Digital Cameras, DSLRs, Mirrorless cameras, Cinematic Imaging Products, Surveillance cameras and Medical Imaging products catering to the multiple market segmentsof consumer, SME, B2B, Commercial, Government & PSUs.