Canon India launches a quirky campaign 'Some Things are Best Left to Canon'
Highlights the importance of cameras in capturing timeless moments, unhindered by any lags through four short films
Sheds the spotlight on the recently launched compact and portable cameras, Canon PowerShot V10 and Canon EOS R100
India 10th August: Furthering its connect and relatability with today's new-age customers, Canon India, leading digital imaging company, has launched a new creative campaign titled 'Some Things are Best Left to Canon'. The campaign highlights, moments that are too precious, too close, and too personal, are best captured by superior technology camera, to cherish for years to come. With a humours twist, Canon India playfully encourages users to capture life's treasured moments, with its latest, feature rich and compact range of cameras, namely the PowerShot V10 and EOS R100 that enables an uninterrupted and distraction-free photography and videography experience.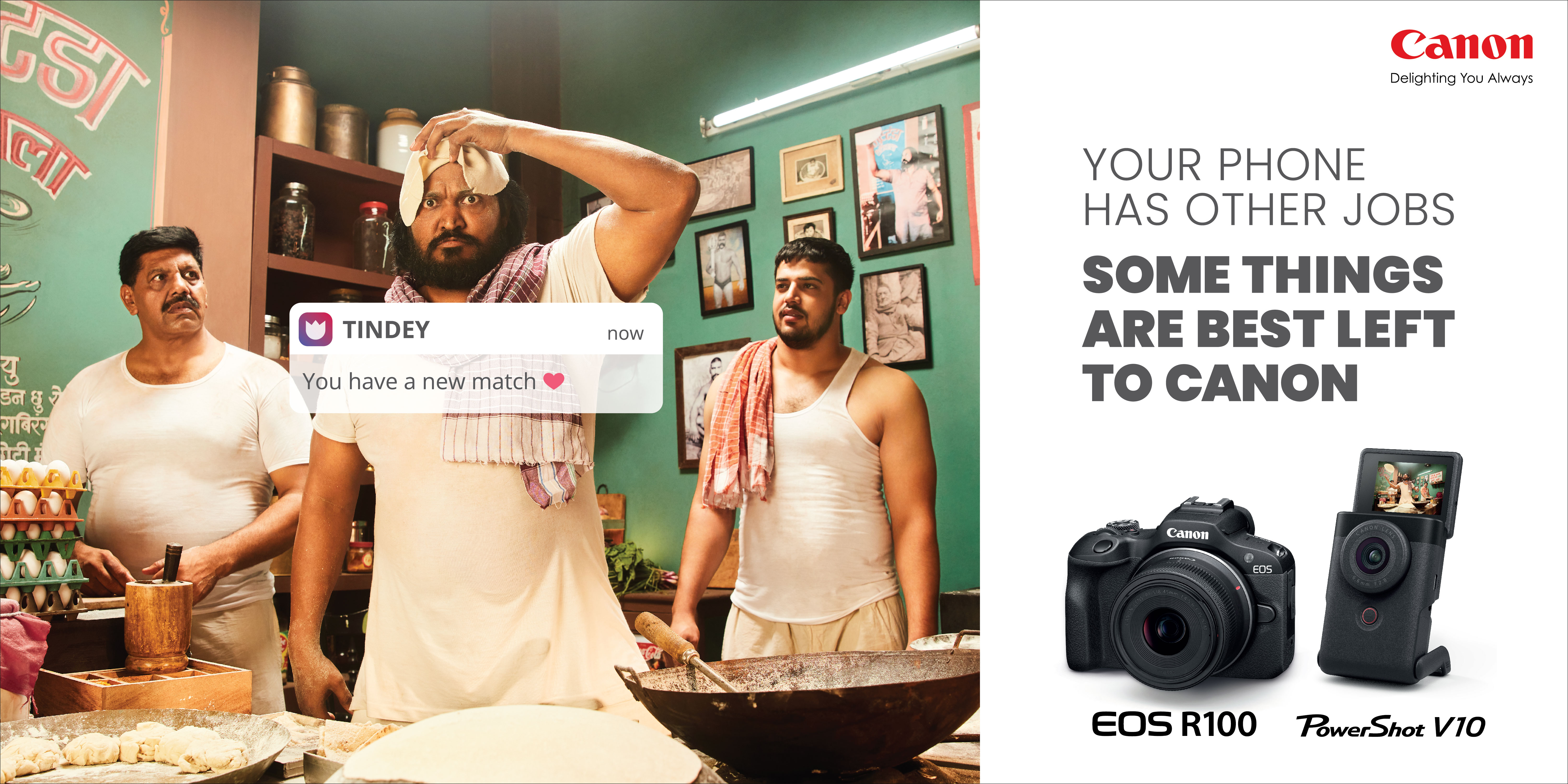 The campaign has been brought alive through four relatable short films, with each one narrating a story that we can all connect to; starting from a father being unable to capture his son's winning football goal, to a vlogger's video-shooting woes while capturing a mushtanda's awe-inspiring flying roti technique for his followers, further a young boy's courageous zipline experience missed being recorded by his family, to a young creators inability to live stream, all due to disruptions and continuous notifications. Overall, the campaign films serve as a comic yet meaningful reminders of why Canon's latest cameras; PowerShot V10 and EOS R100 would have been the right fit for each of the depicted situations to go the other way around, with its portable, ergonomic design, and high-quality footage capabilities. Above all, unhindered by notification pop ups and updates.
Commenting on the launch of the campaign, Mr. C Sukumaran, Senior Director for Product and Communication, Canon India said, "Photography & videography is an integral part of our lives nowadays and at Canon India, it is our constant endeavor to create products that empower the users of today with the best-in-class capturing experience. Our latest compact cameras, first being the PowerShot V10, the new video-centric device for content creators and EOS R100, the perfect go-to camera for all, as it's the most affordable EOS R camera till date, both have been launched keeping in mind the desire to click, and shoot on an everyday basis to further build on to the love of photography and videography. Thus, through a humorous take, our new campaign enunciates the fact that capturing life's most cherished memories are best left to Canon's imaging technology, highlighting the significance of seamless clicking experience among the masses. We are confident that everyone watching will relate to one film or the other and resonate the sentiment.".
Powered by Transformation at its core, Canon India has been witnessing a successful upward trajectory with year-on-year growth while showing the utmost agility by foraying into new avenues as a 360degree digital imaging solutions provider. As it further solidifies its industry leadership in this world of ever-evolving technology, it stands committed to provide products and solutions that cater to an array of customer needs.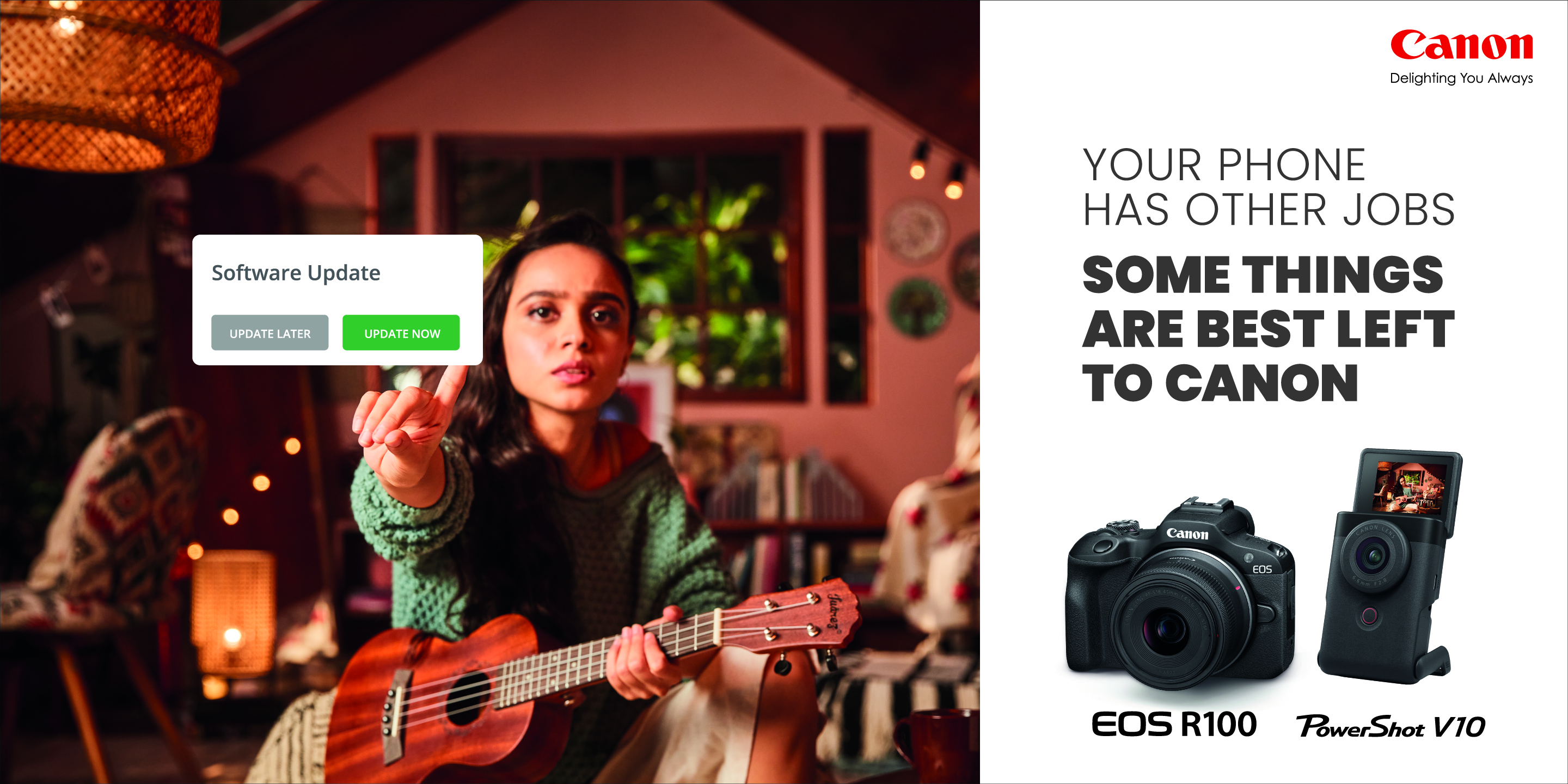 Video 1: GO. GOAL. GONE | Somethings are best left to Canon - YouTube
Video 2: MUSHTANDA ROTIWALA | Somethings are best left to Canon - YouTube
Video 3: LOVELY LOVELY BEAUTIFUL BEAUTIFUL | Somethings are best left to Canon - YouTube
Video 4: Live Screaming| Somethings are best left to Canon - YouTube
About Canon Inc.
Canon Inc. (NYSE: CAJ), headquartered in Tokyo, Japan, is a leader in the fields of professional and consumer imaging equipment, industrial equipment, and information systems. Canon's extensive range of products includes production printers, multifunction office systems, inkjet and laser printers, cameras, video and cinematography equipment, network cameras, medical systems and semiconductor-manufacturing equipment. Originally established in 1937 as Precision Optical Industry, Co., Ltd., a camera manufacturer, Canon has successfully diversified and globalized to become a worldwide industry leader in professional and consumer imaging systems and solutions. With approximately 180,775 employees worldwide, the Canon Group includes manufacturing and marketing subsidiaries in Japan, the Americas, Europe, Asia and Oceania; and a global R&D network with companies based in the United States, Europe, Asia and Australia. Canon's consolidated net sales for fiscal 2022 (ended December 31, 2022) totaled $30.31 billion (at an exchange rate of ¥133=U.S. $1). Visit the Canon Inc. website at: global.canon
About Canon India
Canon India Pvt. Ltd. Is the sales and marketing subsidiary of Canon Inc., a world leader in imaging technologies. Having started its operations in 1997, Canon India markets a comprehensive range of sophisticated contemporary digital imaging products and solutions in India. The company today has offices in 10 cities across India with merchandise warehousing facilities at 4 location and employs over 1000 staff and over 850 channel partners. Canon India enjoys a vast retail presence across the country through Canon Image Square (CIS) stores, PIXMA Zones, and BIS Lounges. Canon India's service reach extends to over 632 towns covering 19,118 PIN codes across India – which comprises of 349 Camera collection points, 15 Camera repair centers, 316 Printer repair centers, 184 Copier, Scanner and 129 Large Format Printer Sales & Service dealers. (Data as of February 2023)
In sync with its corporate tagline- 'Delighting You Always', reinforced by World-class technology, Canon offers an extended product portfolio, including Digital Production Printers, Large Format Printers, Commercial Printers, Multi-Functional Devices, Managed Document Services, Inkjet & Laser Printers, Document and Cheque Scanners, Digital Cameras, DSLRs, Mirrorless cameras, Cinematic Imaging Products, Surveillance cameras and Medical Imaging products catering to the multiple market segments of consumer, SME, B2B, Commercial, Government & PSUs.