Canon reinforces its presence in Kerala; announces the launch of its new masterpiece EOS-1D X Mark III in Kochi
The Canon EOS-1D X Mark III carries forward the indomitable legacy of the EOS-1D series with its unmatched prowess over both still & video domains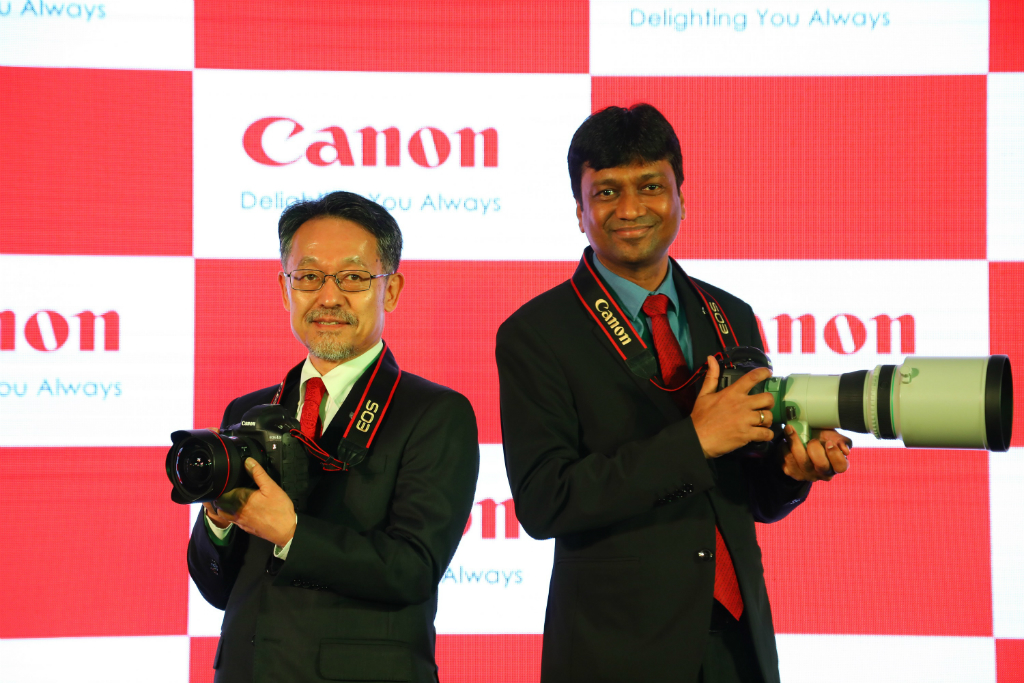 KOCHI, January 24, 2020 – Further strengthening its leadership position in Kerala, Canon India today announced the launch of EOS-1D X Mark III – the flagship product from the Canon EOS range in Kochi. With Kerala as one of the top five markets for Canon's camera business in the country, the launch of the new product is a testament to the brand's commitment towards fostering the already prevalent photography culture in the state. With EOS-1D X Mark III, Canon aims to bring together the best of technology to professionals across all photography and videography genres. The camera features the latest advancements and innovations in digital imaging technology making it truly deserving of the 'flagship' moniker.
Carrying forward the legacy built by its predecessor EOS-1DX Mark II, the launch of the new EOS-1D X Mark III is quintessential for fuelling the creative aspirations of professional photographers and videographers by delivering best in class images at an unmatched speed. The EOS- 1D X Mark III has a newly developed 20.1-megapixel Full Frame CMOS sensor with all new 16-point low pass filter and offers 5.5K RAW video recording. The incorporated new technology offers an opportunity to experience innovation like never before, making it the fastest and best AF System DSLR full frame camera available in the market. With its capabilities to capture images in dark surroundings coupled with capturing the perfectly timed shot, the camera provides the highest possible image quality in all shooting conditions.
Commenting on the importance of Kerala for Canon India, Mr. Kazutada Kobayashi, President & CEO, Canon India said "With its rich culture and heritage, Kerala is a haven of imaging enthusiasts across genres. For Canon India's camera business, Kerala is one of the top 5 markets in the country in terms of revenue, all credits to the growing culture of photography and videography in the state. We received outstanding response from customers in Kochi for EOS-1D X Mark II, which encouraged us to introduce its successor with several technical advancements. It is a matter of extreme delight to launch our flagship Canon EOS-1D X Mark III in the city, and further promote the existing photography culture in the market. We are confident that our latest offering will cater to the growing needs of professional photographers and videographers across South India and open up newer possibilities in the imaging space."
Speaking about the new product, Mr. C Sukumaran, Director, Consumer System Products & Imaging Communication Products highlighted that "Photography as an art has grown leaps and bounds over the years, and through this journey, Canon has emerged as the trusted brand to reckon with among consumers. Kerala has always been an important market for us, and we have been receiving an overwhelming response from consumers here, especially in the full frame segment from professional wedding customers. With the launch of EOS-1D X Mark III, we aim to expand to other genres as well and deliver the best available technology to photographers and videographers in Kerala. This will be the most technologically advanced camera system available for professionals across genres empowering them with superior imaging outputs. We are positive that EOS-1D X Mark III will be a delight for photographers as well as videographers and will garner maximum fanfare from our consumers in Kerala market."
Priced at an MRP of INR 575 995.00/- (incl. of taxes) for the body, including 512 GB CF Express Card and Reader, the EOS-1D X Mark III will be available mid-February onwards at select retail outlets across the country.
Key Features of EOS-1D X Mark III
Unmatched Speed of 20fps with Servo AF
The EOS-1D X Mark III is the ultimate speed machine and the fastest DSLR in the market with a continuous shooting speed of up to 20fps in live view. It offers an unmatched continuous shooting speed up to 16fps with viewfinder shooting. All these continuous shooting speeds are with full Servo autofocus, meaning even rapidly moving subjects are sharply in focus in each and every frame.
Through the viewfinder, the EOS-1D X Mark III offers a continuous shooting speed of up to 16fps. This makes the EOS-1D X Mark III the weapon of choice for the uppermost layer of wedding, wildlife, fashion and sports professionals, for whom every frame is critical, and a missed frame is a lost opportunity.
Dual Pixel CMOS AF with Eye + face + Head detect – a perfect combination
The EOS-1D X Mark III features the latest iteration of Canon's proprietary Dual Pixel CMOS AF. This technology enables smooth continuous autofocus and subject tracking during live view still shooting and video recording
The newly developed algorithms in the EOS-1D X Mark III enable not just Eye Detect & Face Detect autofocus but also Head Detect autofocus. This allows highly precise autofocus and tracking even in challenging conditions and with multiple and rapidly moving subjects
The EOS-1D X Mark III also features a high resolution (2.1-million dots) touchscreen works for both touch focusing as well as capturing
The autofocus system of the future – Square Pixel AF sensor
The EOS-1D X Mark III offers dual CF Express memory card slots. CF Express is the successor to CF 2.0 and XQD 2.0 and offers even higher bandwidth up to 2GB/sec
The EOS-1D X Mark III is able to capture 1000+ RAW + JPEG images which is a huge step up from its predecessor. 5.5K video recording on-camera is possible on account of the massive bandwidth available with CF Express interface
UNMATCHED IMAGE QUALITY
Newly developed 20.1MP Full Frame CMOS Sensor – sharper, less noise
The EOS-1D X Mark III features a newly developed 20.1-megapixel Full Frame CMOS sensor. This sensor features a new 16-point lowpass filter (as opposed to a traditional 4-point lowpass sensor), offering much improved sense of resolution and sharpness as well as reduced moire effects.
This new sensor is based on the latest fabrication process, which allows the EOS-1D X Mark III to feature even better low light performance and a standard ISO range of ISO 100 ~ 102,400. This is a wish come true for wedding and wildlife photographers who typically shoot in very low light – night functions, irregular lighting for wedding photographers and shooting at dusk/dawn, or in low visibility for wildlife photographers
The latest evolutionary imaging processor - DIGIC X
The EOS-1D X Mark III is the first EOS camera to feature the latest generation DIGIC X imaging processor. This new DIGIC X enables many of the innovative features in the new EOS-1D X Mark III that offer improved image quality, processing speed and enhanced functionality.
The DIGIC X enables a new Image Sharpness Processing Engine, new Noise Reduction Processing, improved Digital Lens Optimizer, 5.5K cinematic video recording @60p to name but a few. The clincher is the new DIGIC X processor has reduced power consumption offering a dramatic increase in battery life as compared to its predecessor EOS- 1D X Mark II.
HDR PQ 10-bit HEIF – a new standard in imaging excellence
The EOS-1D X Mark III is the first EOS camera to feature 10-bit colour depth for compressed images in the HEIF format. The HEIF file format (10-bit) captures much more colour information opposed to 8-bit JPEGs which translates to more colour tone gradation and increased dynamic range and ultimately more depth and realism
RAW + HEIF setting a new benchmark in customisation
UNMATCHED VIDEO PERFORMANCE
5.5K Video Recording @60p | 4K 60p Crop/Uncropped - Cinematic future proofing
The EOS-1D X Mark III is the first EOS camera ever to offer a video resolution of 5.5K at 60p. This superb resolution enables oversampling and results in superbly sharp 4K footage. A super high quality Debayer algorithm further helps to suppress more and improves noise granularity
The EOS-1D X Mark III also features 4K video recording at up to 60p. Even more special, both DCI (17:9) as well as UHD (16:9) 4K recording standards are supported. Thus, the EOS-1D X Mark III meets the standard of both cinema as well as broadcasting standards
And it gets even better! The EOS-1D X Mark III offers a choice of 4K cropped / 4K uncropped to cinematographers. This gives unmatched flexibility to the user
12-bit RAW | 10-bit Canon Log 4:2:2 video – designed for cinematographers
The EOS-1D X Mark III supports 5.5K video recording with 12-bit RAW output at 60p. These uncompressed video files retain unmatched rich colour tones to allow extensive post processing that is capable of producing results in line with the Canon Cinema EOS range
The EOS-1D X Mark III also supports 4K video recording with 10-bit Canon Log output @60p with 4:2:2 colour sampling. Canon Log provides a file that is marginally processed with lot of headroom for enhanced post processing, but is of a smaller size than RAW video files. Thus Canon Log files are suitable for post processing workflows that are time optimised and where highly professional results are required with time constraints
The EOS-1D X Mark III gives cinematographers the flexibility of choosing either 12-bit or 10-bit files easing the workflow and post processing concerns of the industry and ensuring that whatever the requirement, quality and timeliness of output is never a concern
Full HD@120p – Capture fast action & slow-motion
The EOS-1D X Mark III supports Full HD @120p video recording with 4:2:2 colour sampling. Videographers will also note 10-bit Canon Log support for Full HD video, which allows professional colour grading and supports advanced post processing workflows
Full HD 120p video support enables greater artistic expression in terms of capturing fast action scenes, or inducing slow motion to create additional drama
OTHER FEATURES
500,000 shutter cycles | highly durable structure – built for true professionals
The EOS-1D X Mark III is built of highly durable magnesium alloy. This makes it highly durable to withstand the rigours of demanding usage in the field. The highly rigid structure is further enhanced by weather sealing around seams and buttons that prevent the ingress of dust and moisture.
The shutter life durability is an industry leading 500,000 cycles
UNMATCHED CONNECTIVITY
Unmatched Connectivity – Gigabit-speed communications
The EOS-1D X Mark III features multiple inbuilt high bandwidth data communication systems including Wi-Fi, wired LAN (Gigabit Ethernet) and the latest USB 3.1 Gen 2 port. The inbuilt Wi-Fi supports latest gen WFT protocols allowing FTP / FTPS / SFTP file transfers
The inbuilt Wi-Fi and Bluetooth allows seamless continuous connectivity with smart phones allowing wireless control of the camera, tethering and transfer of images to the smart device. The Bluetooth is low energy, which helps conserve battery life
PRODUCT SPECIFICATIONS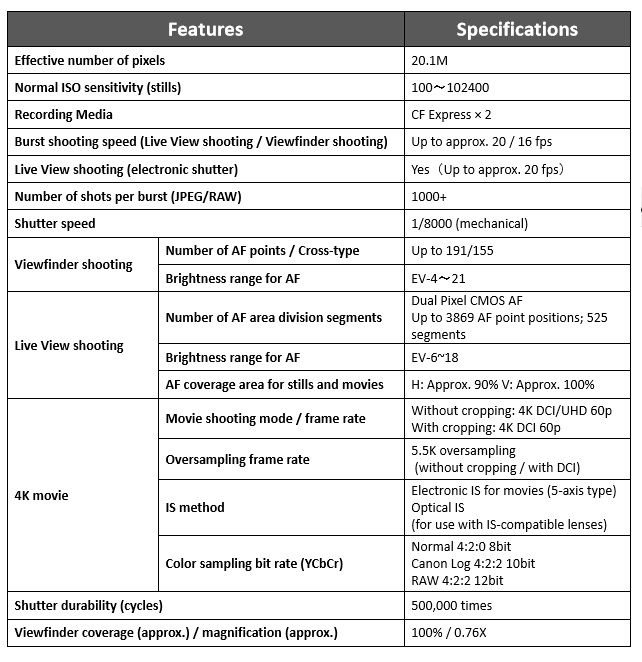 About Canon Group
Ever since its foundation in 1937, Canon is guided by the "Kyosei" philosophy of living and working together for the common good. Canon strives to create and deliver world-class products, becoming a top global corporation by diversifying into new business fields throughout the world. Focusing on optical technologies, Canon produces office equipment, consumer and professional imaging devices, network cameras, healthcare and industrial equipment. Through the close connection between its global head office in Tokyo and regional headquarters in America, Europe, Asia, Oceania and regional headquarters in Japan, Canon combines its global and local operations organically. In 1996, Canon launched its Excellent Global Corporation Plan with the goal of serving the society with advanced technologies and becoming a trustworthy and responsible corporate citizen.
The year 2016 was the first year of Phase 5 of the Plan. Currently, Canon boasts a strong global presence of 376 subsidiaries all over the world, supported by 197,776 employees. (Data as of December 31, 2017)
About Canon India
Canon India Pvt. Ltd., a 100% subsidiary of Canon Singapore Pvt. Ltd., is a world leader in imaging technologies. Set up in 1997, Canon markets over 200 comprehensive range of sophisticated contemporary digital imaging product and solutions in India. The company today has offices and warehouses in 14 cities across India and employs over 1000 people. Canon has over 500 primary channel partners, 14 National Retail Chain partners, and over 6000 secondary retail points. Canon India till date has opened over 250 retailer stores accredited as "Image Square" across 100+ cities in the country. Canon India's service reach extends to over 634 towns covering 18,195 PIN codes across India - which comprises of 270 Camera collection points, 16 Camera repair centers, 262 Printer repair centers, 191 Copier, Scanner and Large Format Printer Sales & Service dealers. (Data as of January 06, 2020).
In sync with its corporate tagline- 'Delighting You Always', reinforced by World class technology, Canon offers an extended product portfolio, including copier MFDs, Managed Document Services, Fax-Machines, Printers, Document and Cheque Scanners, All-in-ones, Digital Cameras, DSLR's, Cinematic Imaging Products, Camcorders, Cable ID Printers and Card printers catering to the multiple market segments of consumer, SME, B2B, Commercial, Government & PSUs. In 2018, the imaging leader recorded a double-digit growth.