Canon India reinforces its foothold in North India; marks the first installation of imagePRESS C10010VP in Delhi
The innovative imagePRESS C10010VP is installed at Dharam Digital Press, a leading Service Provider in Delhi, catering to customers with short runs and bulk requirements of Digital Printing applications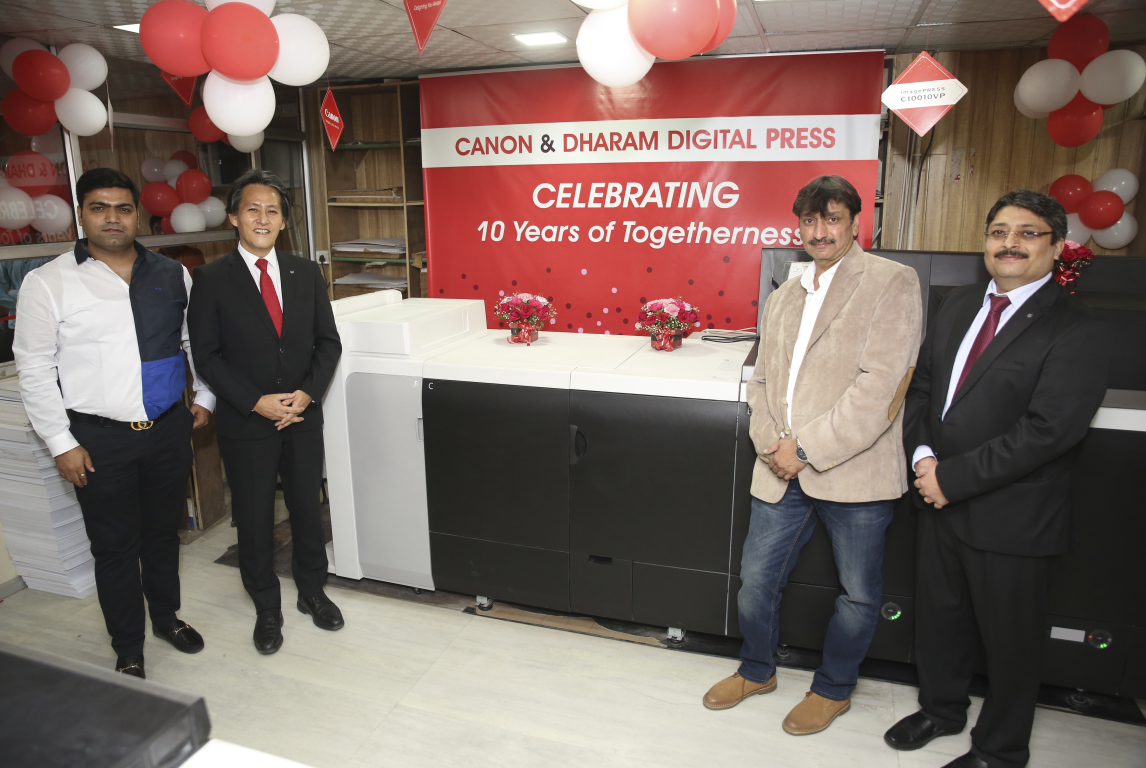 National, 14th December 2021: Driven by innovation and customer trust, Canon India, one of the key leaders in the imaging industry, has announced the first installation of one of its newly launched products- imagePRESS C10010VP in New Delhi at Dharam Digital Press. Acknowledged for its enhanced automation and extensive media-handling capabilities, the imagePRESS C10010VP was inaugurated and installed in the presence of Mr. Manabu Yamazaki, President and CEO of Canon India and Mr. Puneet Datta, Senior Director, Professional Printing Products (PPP), Canon India.
Speaking about the first installation in North India, Mr. Manabu Yamazaki, President and CEO of Canon India said "As we see some positive surge in the market and businesses amidst the seemingly end tail of the pandemic, we are witnessing a good demand from customers for digital printing. True to our value of providing 'customer delight', we are making robust efforts to serve consumers with the best products and services to upscale their businesses effectively and the launch of C10010 VP was a critical step towards this endeavour. We are confident that the first installation of our product- imagePRESS C10010VP in Delhi, will help us strengthen our foothold in North India and in supporting our customers with – enhanced productivity, higher revenue and advanced media versatility."
Commenting on the installation of the machine, Mr. Puneet Datta, Senior Director, Canon India said, "We feel proud when customers who once install a Canon imagePRESS find their return on investment to be so profitable that they keep on upgrading their print infrastructure with either more additions or upgrades. Although our products may seem expensive to the customer in the first look but having high volume customers in the industry to partner with us for multiple generations of products and services is a testament to the fact that there is both financial and business merit in investing in Canon products and services. At Canon, we continuously endeavour to become an important catalyst in the growth of the digital printing industry through our state-of-the-art machines like imagePRESS C10010VP. We want to enable our customers to adapt to the evolving industry landscape and expand their business propositions. The imagePRESS C10010VP series is bundled with the latest innovation and technology, catering to varied segments and perfectly addressing their need for higher quality, higher speeds and higher reliability."
Speaking about the installation at Dharam Digital Press, he further added, "Delhi being one of the well-known hubs for digital print business, has always been a prominent market for us. Our association with Dharam Digital Press started back in 2011 with the installation of the first Canon imagePRESS machine. We are proud to fortify our reach in Delhi NCR through them once again. Dharam Digital Press is well known in the region for its exceptional services and fast turnaround times for retail customers. Through our product, we look forward to contributing to their business growth and further strengthen our deep-rooted relationship."
Speaking about the association and the installation of the new machine, Mr. Virendra Kasana, Owner at Dharam Digital Press said, "We are delighted to be associated with Canon for 10 years now and this relationship has grown stronger and deeper with more Canon installations. The same can be attributed to the timely service support from Team Canon, along with excellent print quality and perfect registration of Canon imagePRESS Engines, which has resulted in an extremely positive response from our end customers. We are extremely proud to say that Print Volume of Dharam Group is in a range of 25-30 Lacs prints per month, with continuous support from team Canon."
He further adds "Like the previous series, imagePRESS C10010VP is a highly productive color production printer and we have already started seeing positive impact like increased print volume and addition of new customers within first month of installation."
The new Canon imagePRESS C10010VP series is built on a proven and reliable technology platform with enhanced automation and extensive media-handling capabilities and sets new standards in productivity, application diversity and quality. It is engineered to support varied printing operations in diverse production business environments. Equipped to support various types of synthetic media, the imagePRESS C10010VP series provides print providers with the capacity to expand their offerings in the market, producing value-added deliverables. Canon imagePRESS C10010VP Engine powered by EFI Fiery B6000 V2 DFE is targeted for high-volume production Environment. Based on FS400 Pro platform, it offers several features to boost color and image quality, increase productivity, and optimize production. Fiery® Edge™ color profiling technology delivers out-of-the-box color and does quality enhancements. Fiery Job Expert is a built-in feature to achieve optimal print output & EFI IQ - a suite of cloud applications to add intelligence to your print business. Its built-in imposition feature supports to impose various POD and VDP applications with ease & whole process can be automated.
Key features of imagePRESS C10010VP Series
Higher Revenue with Flexible Media Versatility: With 400gsm paper support and 330 x 762mm Auto duplex printing Canon C10010VP helps to generate soaring revenues with its enhanced colour consistency and media versatility.
Exceptional Print Quality productivity & Consistency: iPR C10010VP Series is equipped with innovative technologies which will ensure a higher number of prints on a long-term basis. The printer comes with 2400 x 2400 dpi resolution enabling even higher and excellent precision in the printing of text and images. It will ensure state-of-the-art quality from first to last print without compromising on productivity. The Latest FS 400 Pro Platform Fiery for Job & Color Management will also deliver real-time colour calibration to ensure consistent quality.
Low Power Consumption and Higher uptime: With 5kW for Main Unit along with POD Deck & Saddle Finisher, iPR C10010VP Series commits to provide you with lower power consumption and ensure maximum uptime.
About Canon Group
Ever since its foundation in 1937, Canon is guided by the 'Kyosei' philosophy of living and working together for the common good. Canon strives to create and deliver world-class products, becoming a top global corporation by diversifying into new business fields throughout the world. Focusing on optical technologies, Canon produces office equipment, consumer and professional imaging devices, network cameras, healthcare, and industrial equipment. Through the close connection between its global head office in Tokyo and regional headquarters in America, Europe, Asia, Oceania, and regional headquarters in Japan, Canon combines its global and local operations organically. In 1996, Canon launched its Excellent Global Corporation Plan to serve society with advanced technologies and become a trustworthy and responsible corporate citizen. The year 2016 was the first year of Phase 5 of the Plan. Currently, Canon boasts a strong global presence of 376 subsidiaries all over the world, supported by 197,776 employees. (Data as of December 31, 2017)
About Canon India
Canon India Pvt. Ltd. is the sales and marketing subsidiary of Canon Inc., a world leader in imaging technologies. Set up in 1997, Canon India markets a comprehensive range of sophisticated contemporary digital imaging products and solutions in India. The company today has offices in 10 cities across India with warehousing facilities at 6 locations and employs over 1000 staff and over 850 channel partners. Canon India enjoys a vast retail presence across the country through Canon Image Square (CIS) stores, PIXMA Zones and BIS Lounges. Canon India's service reach extends to over 600 towns covering 18,607 PIN codes across India - which comprises of 169 Camera collection points, 16 Camera repair centers, 283 Printer repair centers, 191 Copier, Scanner and Large Format Printer Sales & Service dealers (Data as of July 22, 2021).
In sync with its corporate tagline- 'Delighting You Always', reinforced by World-class technology, Canon offers an extended product portfolio, including Digital Production Printers, Large Format Printers, Commercial Printers, Multi-Functional Devices, Managed Document Services, Inkjet & Laser Printers, Document and Cheque Scanners, Digital Cameras, DSLRs, Mirrorless cameras, Cinematic Imaging Products, Surveillance cameras and Medical Imaging products catering to the multiple market segments of consumer, SME, B2B, Commercial, Government & PSUs.