Canon Partners with McAfee to Protect Businesses from Ever-evolving Security Threats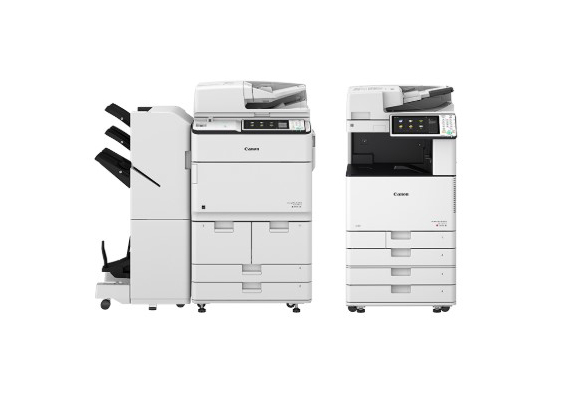 New Delhi, 27 September, 2019: Canon and McAfee, the leading device-to-cloud cybersecurity company, today announced they have entered into a strategic partnership to provide businesses with embedded protection against malware execution and tampering of firmware and applications running on multi-function devices (MFDs). Through the partnership, McAfee Embedded Control now comes as an additional standard security feature on the third edition of Canon imageRUNNER ADVANCE Generation 3 MFDs, helping businesses strengthen the commonly overlooked endpoint security.
"Security is among the top priorities of businesses today as cyber threats continue to develop in sophistication," said K Bhaskhar, Vice President, Business Imaging Solutions, Canon India. He further added, "Our imageRUNNER ADVANCE MFDs are highly secure by design, but with the ever-evolving cyber security landscape, we strive to bring our customers the latest in security and innovation. We teamed up with McAfee in a strategic partnership to provide our customers with the most up-to-date security, helping them protect their connected devices and valuable data against today's vulnerabilities and tomorrow's unknown threats."
"As the number of connected devices in an organisation grows, so do the risks from malware and attacks," said Brent Smith, Director of OEM Sales, McAfee. "McAfee Embedded Control ensures the integrity of systems by only allowing authorised access to devices and blocking unauthorised executables. We are excited about this partnership with Canon to help provide their customers with greater assurance that confidential business data will remain protected."
McAfee Embedded Control protects millions of devices worldwide such as ATMs and retail point-of-sale systems, defending against zero-day and advanced persistent threat (APT) attacks. By blocking the execution of unauthorised applications through intelligent whitelisting, McAfee Embedded Control helps reduce the risk posed by sophisticated malware, such as worms, viruses, and Trojans. The security feature ensures that only Canon-approved, authorised updates can run on the imageRUNNER ADVANCE system, helping to prevent tampering of existing firmware and applications, as well as safeguard businesses against malicious attacks and data breaches.
"As enterprises continue to undergo their own respective digital transformations, it will become increasingly important for office equipment manufacturers to integrate cybersecurity features at the design level," said Keith Kmetz, Program Vice President of Imaging, Printing, and Document Solutions, IDC. "Canon and McAfee design engineers joining forces to create an MFP that embeds these features into the device is a significant step in the future printing industry."
McAfee Embedded Control adds to the extensive range of security features incorporated into the third edition of Canon imageRUNNER ADVANCE Generation 3 MFDs, and is now available as a standard feature, once enabled. Users of the existing third edition imageRUNNER ADVANCE MFDs can initiate a firmware update via Canon's System Platform and benefit from the additional security feature effortlessly.
About Canon Group
Ever since its foundation in 1937, Canon is guided by the "Kyosei" philosophy of living and working together for the common good. Canon strives to create and deliver world-class products, becoming a top global corporation by diversifying into new business fields throughout the world. Focusing on optical technologies, Canon produces office equipment, consumer and professional imaging devices, network cameras, healthcare and industrial equipment. Through the close connection between its global head office in Tokyo and regional headquarters in America, Europe, Asia, Oceania and regional headquarters in Japan, Canon combines its global and local operations organically. In 1996, Canon launched its Excellent Global Corporation Plan with the goal of serving the society with advanced technologies and becoming a trustworthy and responsible corporate citizen. The year 2016 was the first year of Phase 5 of the Plan. Currently, Canon boasts a strong global presence of 376 subsidiaries all over the world, supported by 197 776 employees. (Data as of December 31, 2017)
About Canon India
Canon India Pvt. Ltd., a 100% subsidiary of Canon Singapore Pvt. Ltd., is a world leader in imaging technologies. Set up in 1997, Canon markets over 200 comprehensive range of sophisticated contemporary digital imaging product and solutions in India. The company today has offices and warehouses in 14 cities across India and employs over 1 000 people. Canon has over 500 primary channel partners, 14 National Retail Chain partners, and over 6 000 secondary retail points. Canon India till date has opened over 250 retailer stores accredited as "Image Square" across 100+ cities in the country. Canon India's service reach extends to over 579 towns covering 18 150 PIN codes across India - which comprises of 300 Camera collection points, 16 Camera repair centers, 254 Printer repair centers, 191 Copier, Scanner and Large Format Printer Sales & Service dealers. (Data as of August 14, 2019).
In sync with its corporate tagline- 'Delighting You Always', reinforced by World class technology, Canon offers an extended product portfolio, including copier MFDs, Managed Document Services, Fax-Machines, Printers, Document and Cheque Scanners, All-in-ones, Digital Cameras, DSLR's, Cinematic Imaging Products, Camcorders, Cable ID Printers and Card printers catering to the multiple market segments of consumer, SME, B2B, Commercial, Government & PSUs. In 2018, the imaging leader recorded a double-digit growth.