Canon brings a new addition in the EOS R family with the launch of its lightest and smallest Full-Frame mirrorless camera –
Canon EOS RP
Canon's new full frame mirrorless camera inherits the high-performance of the EOS R system in a compact and lighter body
Comes with 26.2 megapixel Dual Pixel CMOS sensor, 4K video recording, 0.05s focusing speed and EV-5 focusing capabilities, making the EOS RP Canon's most accessible full-frame mirrorless camerajavascript:void(0);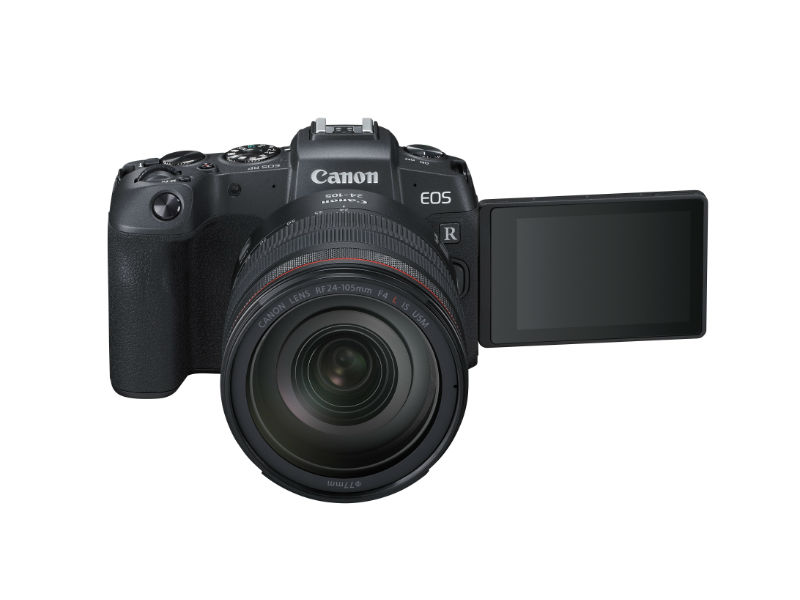 India, 27th February 2019 – Continuing its commitment towards innovation, Canon India, one of the leading imaging organization, today announced the launch of EOS RP, the second addition to its EOS R range of full frame interchangeable-lens mirrorless cameras. Building upon the Canon proprietary technology, DIGIC 8 image processor with Dual Pixel CMOS AF, EOS RP delivers unparalleled optical excellence in a well refined body with enhanced ergonomics for easy operability.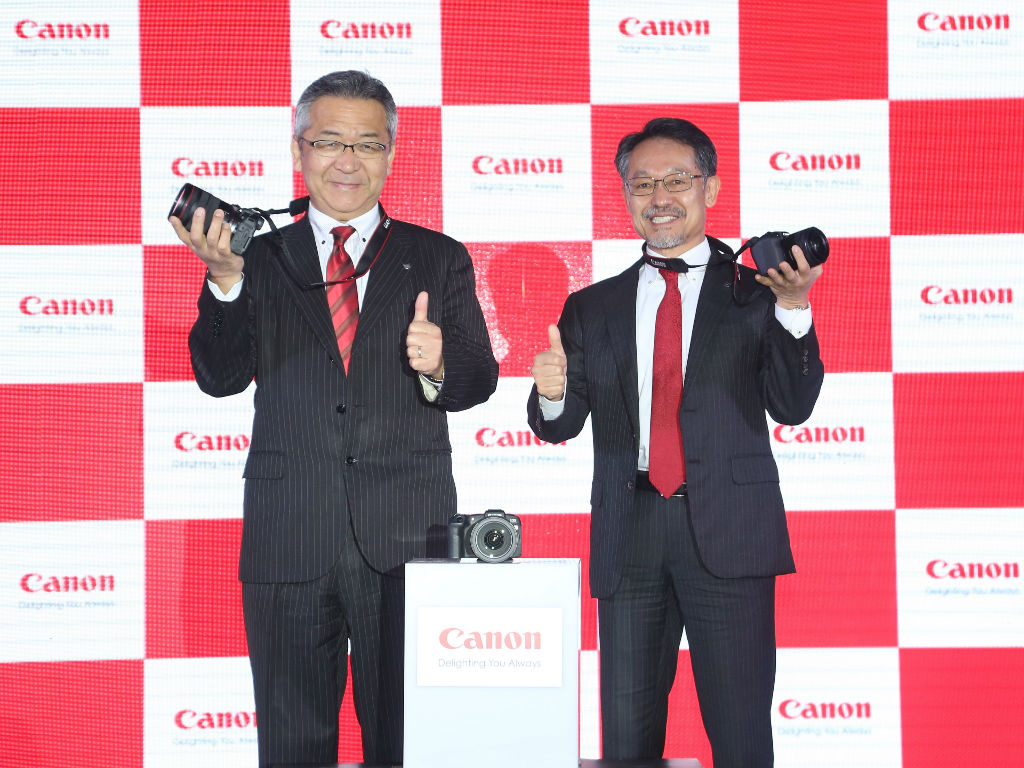 Targeted at photography enthusiasts across genres, the imaging marvel aims to enable users to experience the benefits of a full frame mirrorless camera at an affordable price. The announcement is intended at making full frame mirrorless cameras in India as inclusive as possible, empowering photographers to rethink and reimagine the art of clicking pictures.
In line with their EOS philosophy, the imaging leader offers variety of lenses, designed to complement and expand the creative horizons of its users. The new RF lenses are a step towards the future, providing extremely high image quality never seen before. The EOS RP can be coupled with RF mount adapter, allowing users full access to Canon's existing range of more than 70 EF and EF-S lenses.
Commenting on the launch of the new Canon EOS RP, Mr. Kazutada Kobayashi, President & CEO, Canon India said, "We at Canon have been working consistently to promote the imaging culture in the country, enabling more and more people to enjoy the pleasure of quality photography and printing. With the launch of EOS RP, we have pushed the frontiers of photography in the country, by introducing an affordable and portable product enabling access for photography enthusiasts aspiring to embark on their full-frame mirrorless journey. Our customers are our key stakeholders and we constantly strive to understand their sentiments, EOS RP is another endeavor which will take us closer to our customer. This new addition to the EOS-R family will democratize technology in the mirrorless segment by providing the photographers the opportunity to experience innovation at a great value."
"India is one of our top performing markets across the world and our 2018 business growth has been a testament to the same. We foresee innovations like EOS RP to contribute significantly in making 2019 another landmark year for us in the country," added Mr. Kobayashi.
Speaking about the new product, Mr. Eddie Udagawa, Vice President, Consumer Imaging and Information Centre, Canon India said, "At Canon India, we take pride in providing the best of technology to our customers by creating products that enhance their photography experience. With the launch of the EOS RP- the new introduction in the EOS R family, we aim to further expand the imaging industry. The EOS RP embodies the strength of the latest EOS R system and also strengthens the legacy of the EOS series. The EOS series has become a name synonymous with quality and innovation. With an extremely lightweight and compact body, the EOS RP is a performance packed all rounder that comes with 26.2 megapixel, Dual Pixel CMOS AF, DIGIC 8 processor making it ideal for advanced still and video shooting. We hope this launch will encourage photographers across genres to expand their horizon and strive towards newer possibilities in the imaging space."
The EOS RP will be available in India at the price of
EOS RP Body: INR 110,495.00/U (inclusive of all taxes)
EOS RP kit (with RF24-105mm f/4L IS USM Lens): INR 199,490.00/U (inclusive of all taxes)
The sales for EOS RP Body and EOS RP Kit will start from 27th February 2019.
Product Specifications for EOS RP
| | |
| --- | --- |
| Dimensions | Approx. 132.5 x 85.3 x 70.0mm |
| Weight | 485g |
| Image sensor | 26.2 megapixel full-frame CMOS sensor |
| Imaging processor | DIGIC 8 |
| ISO speed | 100-40000 expandable to 50-102400 |
| Continuous shooting speed | Max 5fps (One Shot AF), 4fps (Servo AF) |
| Maximum video quality | 4K 24p |
| AF | 4779 available AF point positions; 143 AF area divisions for auto AF mode |
| Wi-Fi / Bluetooth | Yes |
| LCD | 7.62cm (approx. 1.04 million dots) Vari-angle touch panel |
| Battery | LP-E17 |
Key Features of EOS RP
Cementing the EOS Legacy
Powered by Canon's EOS R System, the EOS RP is equipped with the RF lens mount introduced in the EOS R. The RF mount sports a short flange focal distance of 20mm and was designed with the intention to allow more possibilities in lens design and innovation. Existing EOS users would be able to utilize their existing collection of EF and EF-S lenses using the optional mount adapter, leaving them spoilt for choice
The EOS RP embodies the familiar, reliable features of Canon's EOS performance and excellent ergonomics, delivering an unparalleled image quality that caters to both advanced photographers and those venturing into full-frame cameras. With the Feature Assistant, new users would be able to easily navigate while experienced users would be better poised to make full use of each feature to produce better images
Exceptional Image Quality and Details
Driven by Canon's advanced DIGIC 8 image processor, the EOS RP is able to deliver superb image quality in any situation. Its Auto Lighting Optimizer feature balances the brightest and darkest point to accentuate the details of the images to deliver a well exposed image, even in backlit conditions
The EOS RP is equipped with a 26.2-megapixel Full-Frame CMOS sensor to capture vivid images with crisp details. Its native ISO range of 100-40,000, which can be expanded to ISO range of 50-102,400, produces low-noise images with rich details, even in low light conditions
The Dual Sensing IS of the EOS RP that detects camera shakes from its gyroscopic sensor and the CMOS sensor provides Image Stabilization that allows user to capture images at shutter speed of up to five stops slower, most useful especially in low-light situations
The in-camera Digital Lens Optimizer corrects aberrations, diffraction and optical distortions as you shoot, producing excellent image quality right out of the camera
Clever Engineering for a Sharp Focus
Equipped with the Dual Pixel CMOS AF that provides a smooth and lightning fast autofocus speed up to 0.05 seconds, users can capture fleeting moments such as child's first step
Users will be free to create unique compositions without worrying about the focus, using the 4,779 selectable AF positions within the expanded AF area that covers approximately 100% vertically and 88% horizontally of the frame
The minimum AF luminance of EV-5 of EOS RP provides accurate focus even in poorly lit conditions, capturing that gorgeous smile during the candle light dinner in a jazz lounge
The Eye Detection AF which even works in Servo AF mode will detect and ensure that the subject's eye is always in focus even at wide open aperture, especially useful when the subject is moving. When in situations which require minimum disturbance, like shooting intimate moments during a wedding ceremony, in museums or simply to capture candid expressions of people without being intrusive, the camera's silent mode enables users to shoot in stealth, without the sound of a shutter release
For users looking to create images with a large depth of field where everything in the image is in focus, the Focus Bracketing feature of EOS RP would come in handy, especially when shooting macro. It automatically shoots a series of photos based on predetermined settings such as number of shots, focusing range and first focus point. The series of images could be stitched together to form the final image using the Digital Photo Professional software
Majestic Movie Capabilities
Together with Dual Pixel CMOS AF, the EOS RP shoots in 4K resolution at 24p/25p video footage allowing users to focus accurately and shoot smoothly. With Touch & Drag AF, users can create pull-focus effects and also enable focus transition simply by moving their finger from one to another part of the frame on the LCD screen
Combination IS provides users with stable footages even without a tripod, through the innovative and improved communication of the RF mount between the sensor and the lens
When recording video with the RF lens, users can adjust the AV setting to make ⅛-stop aperture adjustments, allowing users more precise control over exposure to match the lighting conditions of the shoot. When shooting manually, the MF Peaking function becomes essential, ensuring accurate focusing by highlighting areas in focus
Enhanced Ergonomics for Ease of Handling
Weighing only 485 grams and built significantly smaller, the EOS RP is easier to handle, especially for users who are new full-frame cameras. For users with larger hands, an optional Extension Grip (EG-E1) comes in handy to ensure firmer handling
EOS RP's Vari-angle touch screen LCD screen offers users the opportunity to shoot from unusual angles and to try out unique framing. Armed with a customisable electronic viewfinder (EVF) that provides 100% coverage, EOS RP's EVF displays accurate details through its 2.36million dots OLED display, especially useful when working under bright glaring
Apart from charging the batteries with the included external charger, the EOS RP can be quickly charged directly with using the optional USB Power Adapter PD-E1, in a speedy manner through its Hi-Speed (USB 2.0/ Type C) Interface
Seamless Connection
Transferring images from the EOS RP to either a smart device or computer is effortless via Wi-Fi and Bluetooth Low Energy (BLE) technology
Users can perform any network-related functions by utilizing Canon Camera Connect app designed for mobile devices. When paired, the automatic data transfer function can send photos to users' smartphone simultaneously while they are still taking photos. This helps with photos management without having to manually transfer images after shooting
A Snapshot of the Future
The production of 140 million lenses marks a significant milestone for Canon and serves to underscore Canon's dedication to its customers. RF lenses are engineered to provide the best possible quality in images and videos. Adding a control ring to the system when paired with EOS RP, provides the convenience of customizable exposure settings.
Canon understands the importance of a good ecosystem for camera users and is pleased to share the roadmap of six new RF lenses in 2019. New optical designs for these lenses are made possible by the large diameter mount and short back focus of the RF mount system.
RF-15-35mm f/2.8L IS USM
The ultra-wide zoom lens features a large f/2.8 widest aperture. The RF-15-35mm f/2.8L IS USM provides the extreme wide angle view in close tight situations and is suitable for the majestic landscape. The focal length of 15mm to 35mm is versatile for everyday captures to wedding photography. Paired with Image Stabilizer, RF-15-35mm f/2.8L IS USM performs exceptionally well in low-light condition.
RF24-70mm f/2.8L IS USM
The RF24-70mm f/2.8L IS USM is an L-series standard zoom lens compact enough to carry around while maintaining a large f/2.8 widest aperture. RF24-70mm f/2.8L IS USM is expected to be an all-rounder for various shooting situations and genre such as landscape, portraits, weddings. Its performance truly shines during low-light condition when shot wide open.
RF70-200mm f/2.8L IS USM
The popular telephoto zoom lens now comes with significantly smaller body. Equipped with the maximum aperture of f/2.8 and Image Stabilization, RF70-200mm f/2.8L IS USM provides unprecedented shooting experience for sports, wedding, wildlife and even landscape.
RF85mm f/1.2L USM
The RF85mm f/1.2L USM is an L-series medium telephoto prime lens, featuring stunning edge-to-edge resolution even at the maximum aperture of f/1.2, which expands shooting possibilities.
RF85mm f/1.2L USM DS
While inheriting the high overall performance and attractive specs of the RF85mm f/1.2L USM DS, the RF85mm f/1.2L USM DS is Canon's first lens to feature the Defocus Smoothing(DS) effect made possible by new coating technology that produces softer and smoother bokeh that were considered impossible with conventional optics.
RF24-240mm f/4-6.3 IS USM
The RF24-240mm f/4-6.3 IS USM is a compact and lightweight zoom lens with a wide 24mm to a high 240mm (10x zoom). This is a highly versatile lens that would value add to the EOS R system for both still and video shooting.
About Canon Group
Ever since its foundation in 1937, Canon is guided by the "Kyosei" philosophy of living and working together for the common good. Canon strives to create and deliver world-class products, becoming a top global corporation by diversifying into new business fields throughout the world. Focusing on optical technologies, Canon produces office equipment, consumer and professional imaging devices, network cameras, healthcare and industrial equipment. Through the close connection between its global head office in Tokyo and regional headquarters in America, Europe, Asia, Oceania and regional headquarters in Japan, Canon combines its global and local operations organically. In 1996, Canon launched its Excellent Global Corporation Plan with the goal of serving the society with advanced technologies and becoming a trustworthy and responsible corporate citizen. The year 2016 was the first year of Phase 5 of the Plan. Currently, Canon boasts a strong global presence of 376 subsidiaries all over the world, supported by 197,776 employees. (Data as of December 31, 2017)
About Canon India
Canon India Pvt. Ltd., a 100% subsidiary of Canon Singapore Pvt. Ltd., is a world leader in imaging technologies. Set up in 1997, Canon markets over 200 comprehensive range of sophisticated contemporary digital imaging product and solutions in India. The company today has offices and warehouses in 14 cities across India and employs over 1000 people. Canon has over 500 primary channel partners, 14 National Retail Chain partners, and over 6000 secondary retail points. Canon India till date has opened over 250 retailer stores accredited as "Image Square" across 100+ cities in the country. Canon India's service reach extends to over 582 towns covering 17,978 PIN codes across India - which comprises of 270 Camera collection points, 16 Camera repair centers, 235 Printer repair centers, 187 Copier, Scanner and Large Format Printer Sales & Service dealers. (Data as of February 13th , 2019)
In sync with its corporate tagline- 'Delighting You Always', reinforced by World class technology, Canon offers an extended product portfolio, including copier MFDs, Managed Document Services, Fax-Machines, Printers, Document and Cheque Scanners, All-in-ones, Digital Cameras, DSLR's, Cinematic Imaging Products, Camcorders, Cable ID Printers and Card printers catering to the multiple market segments of consumer, SME, B2B, Commercial, Government & PSUs. In 2017, the imaging leader recorded a double digit growth.