Canon Expands Its Super Telephoto Reach with Longer, Significantly Lighter New L-series RF Prime Lenses
The RF800mm F5.6L IS USM and the RF1200mm F8L IS USM harness new optical technologies to offer impressive reach and superior image quality alongside unprecedented portability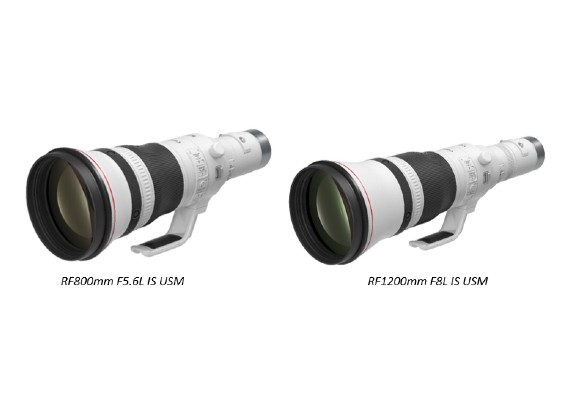 India, 24 February 2022- Canon today announced the launch of two new L-series super telephoto prime lenses: the RF800mm F5.6L IS USM and the RF1200mm F8L IS USM. Canon is a rare manufacturer of 1200mm lenses, of which very few are in existence. Supporting autofocusing and image stabilization even with extenders, both lenses achieve their impressive reach while weighing just over 3kg. While the RF800mm F5.6L IS USM and the RF1200mm F8L IS USM are significantly smaller and lighter than their EF lens counterparts, they maintain the signature superior image quality of L series lenses. With these new lenses, Canon's RF lens lineup now provides the most comprehensive focal range for users, from an ultra-wide angle 14mm up to an unparalleled super telephoto 2400mm[1]
Behemoths Downscaled: Size and Weight Reductions Up To 80%
The RF1200mm F8L IS USM is trimmed down by 13kg in weight (approx. 80%) and 299mm (approx. 35%) in length from its 16.5kg predecessor, the EF1200mm F5.6L USM, even with the inclusion of an in-lens Optical Image Stabilizer (Optical IS). Meanwhile, the RF800mm F5.6L IS USM achieves a 1.36kg (approx. 30%) weight reduction over its predecessor, the EF800mm F5.6L IS USM.The significant downscaling was achieved by adding magnification optics towards the back of the optical designs of the EF400mm F2.8L IS III USM and EF600mm F4L IS III USM, two lenses which had also achieved significant size and weight reduction while maintaining high optical performance. Both lenses feature a highly durable vibration and shock-proof structure, with dust- and drip-resistant weather sealing to prevent moisture from entering.
Reach Further with Extenders, Bolstered by AF Support
Both the RF800mm F5.6L IS USM and the RF1200mm F8L IS USM are compatible with the Extender RF 1.4x and the Extender RF 2x. The focal lengths with the extenders are as follows:
| | | |
| --- | --- | --- |
| | Extender RF 1.4x | Extender RF 2x |
| RF800mm F5.6L IS USM | 1120mm | 1600mm |
| RF1200mm F8L IS USM | 1680mm | 2400mm |
It is hard to find other camera systems which offer the ability to reach focal lengths of more than 1600mm on an autofocus-capable super telephoto lens and extender.
When the lenses and extenders are combined with the EOS R system's Dual Pixel CMOS AF, AF is possible over a wide coverage area even beyond maximum aperture f/8—up to 100% coverage on the EOS R3, EOS R5, and EOS R6[2]. With this, user can enjoy the benefits of AF, such as Animal Detection AF, in more situations than possible on a DSLR camera. The lenses also support continuous shooting of up to 30 fps (electronic shutter) when paired with a high-performance camera like the EOS R3.[1] On RF800mm F5.6L IS USM with Extender RF 1.4x
Incorporating Canon's Proprietary Technology for Superior Image Quality
Leveraging on the flexibility of the RF mount, the RF800mm F5.6L IS USM and the RF1200mm F8L IS USM lens configurations are optimized to achieve the signature outstanding L-lens image quality within a smaller, lighter lens body. This includes the use of fluorite, Super UD (Ultra Low Dispersion), and UD lens elements to combat the chromatic aberration that super telephoto lenses are particularly susceptible to, achieving crisp, clear images all the way to the edges of the frame.
Enhanced Image Stabilization for Super Telephoto Shooting
Both lenses are equipped with the in-lens Optical IS image stabilization system, which significantly corrects the camera shake that becomes particularly visible at ultra-long focal lengths. On the RF800mm F5.6L IS USM, the equivalent of up to 4.5 shutter speed stops[3] of image stabilization is achieved (Predecessor: 4 stops); on the RF1200mm F8L IS USM, the image stabilization effect is up to 4 shutter speed stops equivalent 3 (Predecessor: no IS).
Unprecedented Portability Expands Application Usage
Professional super telephoto lenses are traditionally associated with bulky heft. The unprecedented portability achieved by the RF800mm F5.6L IS USM and the RF1200mm F8L IS USM will make them more appealing to new markets and new applications, especially when combined with the ever-increasing capabilities of the EOS R mirrorless camera system.
Product Specifications
RF800mm F5.6L IS USM
RF1200mm F8L IS USM
Focal Length
800 mm
1200 mm
Maximum Aperture
f/5.6
f/8
Minimum Focusing Distance
2.6 m
4.3 m
Maximum Magnification
0.34 x
0.29 x
Lens Construction
26 elements in 18 groups
26 elements in 18 groups
Special Low Dispersion Glass

2x fluorite

1x Super UD

1x UD

2x fluorite

1x Super UD

1x UD

Filter Size Diameter
ø52 mm (drop-in)
ø52 mm (drop-in)
Aperture Blades
9
9
IS (CIPA Standard Correction Effect)
Yes (up to 4.5 stops)
Yes (up to 4 stops)
Maximum Diameter and length
approx. 163 mm x 432 mm
approx. 168 mm x 537 mm
Weight
approx. 3140 g
approx. 3340 g
These Lenses will be on sale in May 2022, and they are priced as follows: -
| | |
| --- | --- |
| RF800mm F5.6L IS USM | RF1200mm F8L IS USM |
| MRP Rs 15 41 995.00/U | MRP Rs 18 13 995.00/U |
About Canon Group
Ever since its foundation in 1937, Canon is guided by the 'Kyosei' philosophy of living and working together for the common good. Canon strives to create and deliver world-class products, becoming a top global corporation by diversifying into new business fields throughout the world. Focusing on optical technologies, Canon produces office equipment, consumer and professional imaging devices, network cameras, healthcare, and industrial equipment. Through the close connection between its global head office in Tokyo and regional headquarters in America, Europe, Asia, Oceania, and regional headquarters in Japan, Canon combines its global and local operations organically. In 1996, Canon launched its Excellent Global Corporation Plan to serve society with advanced technologies and become a trustworthy and responsible corporate citizen. The year 2016 was the first year of Phase 5 of the Plan. Currently, Canon boasts a strong global presence of 376 subsidiaries all over the world, supported by 197,776 employees. (Data as of December 31, 2017)
About Canon India
Canon India Pvt. Ltd. is the sales and marketing subsidiary of Canon Inc., a world leader in imaging technologies. Set up in 1997, Canon India markets a comprehensive range of sophisticated contemporary digital imaging products and solutions in India. The company today has offices in 10 cities across India with warehousing facilities at 6 locations and employs over 1000 staff and over 850 channel partners. Canon India enjoys a vast retail presence across the country through Canon Image Square (CIS) stores, PIXMA Zones and BIS Lounges. Canon India's service reach extends to over 632 towns covering 19,118 PIN codes across India - which comprises of 163 Camera collection points, 14 Camera repair centers, 290 Printer repair centers, 191 Copier, Scanner and Large Format Printer Sales & Service dealers. (Data as of January 01, 2022).
In sync with its corporate tagline- 'Delighting You Always', reinforced by World-class technology, Canon offers an extended product portfolio, including Digital Production Printers, Large Format Printers, Commercial Printers, Multi-Functional Devices, Managed Document Services, Inkjet & Laser Printers, Document and Cheque Scanners, Digital Cameras, DSLRs, Mirrorless cameras, Cinematic Imaging Products, Surveillance cameras and Medical Imaging products catering to the multiple market segments of consumer, SME, B2B, Commercial, Government & PSUs.
---
1. With the Extender RF2x
2. On RF800mm F5.6L IS USM with Extender RF 1.4x
3. In the Yaw//Pitch directions; according to CIPA standards. When using the EOS R/R5/R3