Canon EOS System Celebrates 35th Anniversary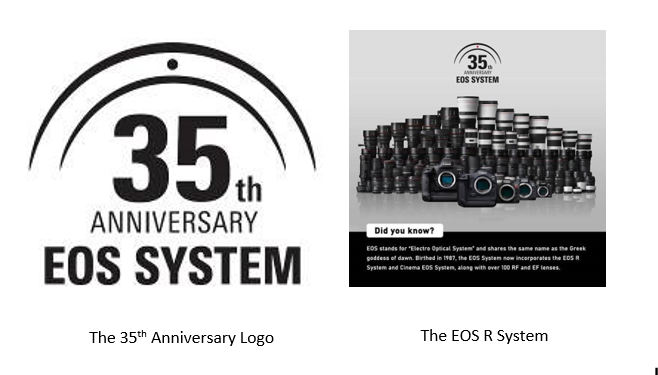 India, 24 February 2022 – Canon Inc. will celebrate in March 2022 the 35th anniversary of the launch of the company's EOS System, which includes EOS-series interchangeable-lens cameras and a diverse range of system accessories, beginning with interchangeable EF lenses.
Canon's EOS System made its debut in March 1987 with the launch of the EOS 650 single-lens reflex (SLR) camera and EF lenses[1]. An acronym of "Electro Optical System" while also carrying the name of the Greek Goddess of the dawn, the EOS series saw first light in 1987 as the world's first fully electronic mount system, representing a new generation of AF SLR cameras.
During the film-camera era, EOS SLR cameras garnered high acclaim from a wide range of users for their innovative technologies and designs focused on Canon's key concepts of high speed and ease of use. During this period, the company launched the top-of-the-line professional model EOS-1 in 1989 and, with the introduction of the compact lightweight EOS Kiss (EOS Rebel XS and EOS 500 in other regions) in 1993, succeeded in expanding its user base.
Following the introduction of the EOS D30 in 2000, when the popularization of digital SLR cameras was in full swing, Canon developed such innovative models as the high-speed and high-image-quality professional-oriented EOS-1D (2001), the EOS Kiss Digital (2003, EOS Digital Rebel or EOS 300D in other regions) which appealed to a broad user base, and the EOS 5D Mark II (2008), which featured Full HD video recording, in an effort to offer products that fulfilled the company's new key concepts of high speed, ease of use and high image quality. In 2012, EOS video technology was transformed for the B-to-B sphere in the form of the Cinema EOS System, marking Canon's entry into the video production industry.
From there, Canon continued to serve an increasingly diverse range of users. In 2018, the EOS R System was born from Canon's desire to construct the ideal lens mount and maximize the appeal of its new RF lenses. The company followed up in 2020 with the EOS R5, the world's first digital camera to feature 8K recording[2]. The next year, 2021 witnessed the launch of the EOS R3, which boasts eye-control AF capability, and the EOS VR System for recording VR content.
Enabling visual expression through still photography, video, and even VR content, the EOS system expands the possibilities of visual expression with a lineup comprising a total of 21 EOS series cameras[3] and 104 RF and EF lenses[4]. Further underwriting the company's long-running and expansive user base, Canon has maintained the world's No.1 share[5] of digital interchangeable-lens cameras since 2003—a total of 18 years running.
Canon will continue to refine its diverse imaging technologies based on its core optical technology to create an even stronger EOS System that meets the needs of increasingly diverse users to promote the spread of photo and video culture.
About Canon Group
Ever since its foundation in 1937, Canon is guided by the 'Kyosei' philosophy of living and working together for the common good. Canon strives to create and deliver world-class products, becoming a top global corporation by diversifying into new business fields throughout the world. Focusing on optical technologies, Canon produces office equipment, consumer and professional imaging devices, network cameras, healthcare, and industrial equipment. Through the close connection between its global head office in Tokyo and regional headquarters in America, Europe, Asia, Oceania, and regional headquarters in Japan, Canon combines its global and local operations organically. In 1996, Canon launched its Excellent Global Corporation Plan to serve society with advanced technologies and become a trustworthy and responsible corporate citizen. The year 2016 was the first year of Phase 5 of the Plan. Currently, Canon boasts a strong global presence of 376 subsidiaries all over the world, supported by 197,776 employees. (Data as of December 31, 2017)
About Canon India
Canon India Pvt. Ltd. is the sales and marketing subsidiary of Canon Inc., a world leader in imaging technologies. Set up in 1997, Canon India markets a comprehensive range of sophisticated contemporary digital imaging products and solutions in India. The company today has offices in 10 cities across India with warehousing facilities at 6 locations and employs over 1000 staff and over 850 channel partners. Canon India enjoys a vast retail presence across the country through Canon Image Square (CIS) stores, PIXMA Zones and BIS Lounges. Canon India's service reach extends to over 632 towns covering 19,118 PIN codes across India - which comprises of 163 Camera collection points, 14 Camera repair centers, 290 Printer repair centers, 191 Copier, Scanner and Large Format Printer Sales & Service dealers. (Data as of January 01, 2022).
In sync with its corporate tagline- 'Delighting You Always', reinforced by World-class technology, Canon offers an extended product portfolio, including Digital Production Printers, Large Format Printers, Commercial Printers, Multi-Functional Devices, Managed Document Services, Inkjet & Laser Printers, Document and Cheque Scanners, Digital Cameras, DSLRs, Mirrorless cameras, Cinematic Imaging Products, Surveillance cameras and Medical Imaging products catering to the multiple market segments of consumer, SME, B2B, Commercial, Government & PSUs.
---
The EF35-70mm f/3.5-4.5, EF35-105mm f/3.5-4.5 and EF50mm f/1.8 were released alongside the EOS 650.
Among interchangeable-lens digital cameras available as of July 8, 2020.
Includes 5 digital cinema cameras for video production. As of February 24, 2022.
Includes 30 EF cinema lenses (EF and PL mount) and 4 lens extenders. As of February 24, 2022.
Shares of unit sales. Based on Canon research.