Canon Unveils New Features

For the Highly Anticipated Canon EOS R5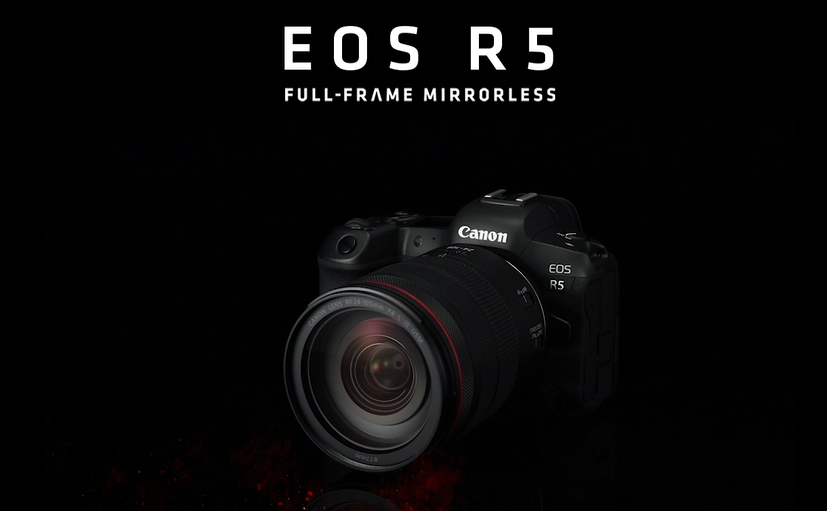 India , 21 April 2020 – Canon today revealed new features and functions of the highly anticipated Canon EOS R5, engineered with the revolutionary RF mount and fitted with Canon's latest technologies. The EOS R5 is the first of the next-generation full-frame mirrorless cameras in Canon's EOS R System.

The Canon EOS R5 comes with groundbreaking specifications in the video department. The compact body houses the ability to shoot 8K videos internally at up to 30fps with full sensor width read out (without crop). This allows flexibility in post-processing or editing as you have access to four times the resolution of 4K—being able to crop in or pan within the frame and still deliver in 4K or FHD output. The camera also has the impressive ability of shooting 4K at up to 120fps, both internally and externally. For recordings in both 8K and 4K, 10-bit YCbCr 4:2:2 internal recording with Canon Log is supported.

With the RAW movie feature first made available on the EOS-1DX Mark III in late 2019, the EOS R5 raises the bar further to include internal 8K RAW movie recording at up to 30fps with full sensor width read out. Moreover, the Dual Pixel CMOS AF will be available in every video resolution available in the EOS R5—including the RAW movie mode.

The EOS R5 also comes with an improved AF algorithm, capable of detecting the body, face and eyes of animal subjects such as dogs, cats and even birds. The Animal Detection AF in the EOS R5 is capable of detecting erratic movements, enabling users to shoot a variety of fast-moving subjects with greater ease.

Along with this, the EOS R5 will also feature a 5-axis in-body image stabilisation system (IBIS) which works in tandem with the Image Stabilization in Canon lenses to effectively reduce camera-shake blur. Users can now master challenging handheld shots when using telephoto lenses or shooting in dimly-lit conditions.

All these impressive functions are packed into a compact body, which is designed with two card slots – CFexpress card and SD memory card. The ultra-high transfer speeds of the CFexpress card is one of the key reasons for the camera's ability to perform continuous shooting at up to 20fps and internal recordings of 8K RAW movies.

With the addition of the EOS R5 to its lineup, Canon will continue to strengthen its EOS R System and provide its users with an imaging system that delivers higher image quality and greater ease-of-use.

About Canon Group

Ever since its foundation in 1937, Canon is guided by the "Kyosei" philosophy of living and working together for the common good. Canon strives to create and deliver world-class products, becoming a top global corporation by diversifying into new business fields throughout the world. Focusing on optical technologies, Canon produces office equipment, consumer and professional imaging devices, network cameras, healthcare and industrial equipment. Through the close connection between its global head office in Tokyo and regional headquarters in America, Europe, Asia, Oceania and regional headquarters in Japan, Canon combines its global and local operations organically. In 1996, Canon launched its Excellent Global Corporation Plan with the goal of serving the society with advanced technologies and becoming a trustworthy and responsible corporate citizen. The year 2016 was the first year of Phase 5 of the Plan. Currently, Canon boasts a strong global presence of 376 subsidiaries all over the world, supported by 197,776 employees. (Data as of December 31, 2017)

About Canon India

Canon India Pvt. Ltd., a 100% subsidiary of Canon Singapore Pvt. Ltd., is a world leader in imaging technologies. Set up in 1997, Canon markets over 200 comprehensive range of sophisticated contemporary digital imaging product and solutions in India. The company today has offices and warehouses in 14 cities across India and employs over 1000 people. Canon has over 500 primary channel partners, 14 National Retail Chain partners, and over 6000 secondary retail points. Canon India till date has opened over 250 retailer stores accredited as "Image Square" across 100+ cities in the country. Canon India's service reach extends to over 595 towns covering 19,892 PIN codes across India - which comprises of 250 Camera collection points, 16 Camera repair centers, 272 Printer repair centers, 206 Copier, Scanner and Large Format Printer Sales & Service dealers. (Data as of March 13, 2020).

In sync with its corporate tagline- 'Delighting You Always', reinforced by World class technology, Canon offers an extended product portfolio, including copier MFDs, Managed Document Services, Fax-Machines, Printers, Document and Cheque Scanners, All-in-ones, Digital Cameras, DSLR's, Cinematic Imaging Products, Camcorders, Cable ID Printers and Card printers catering to the multiple market segments of consumer, SME, B2B, Commercial, Government & PSUs. In 2017, the imaging leader recorded a double digit growth.