Canon India is offering free online masterclasses with Canon Mentors to keep you busy during the lockdown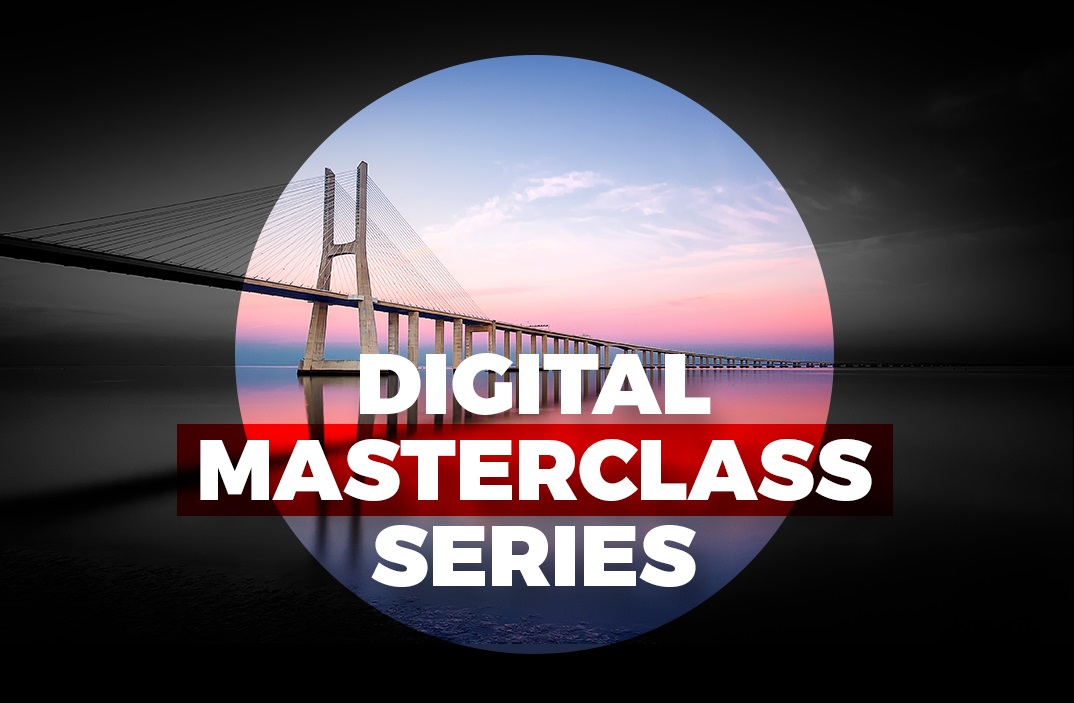 NATIONAL, April 20th, 2020 – In an endeavour to motivate people to stay productive and learn new photography skills, Canon India has organised Digital Master Class Series curated in closed association with some of the industry's best talents. Canon masterclass webinars are targeted to photography enthusiasts, professional photographers and photography students and covers different genres of photography, filmmaking, and editing & post production.

The webinars have been initiated starting April 03rd, for which the registration link and T&Cs are being made available on Canon India's social handles, thereby catering to a large audience across geographies. The online initiative is aimed at helping budding photographers and professionals to hone their skills and pursue their long-procrastinated passions during the nationwide lockdown. Canon masterclass webinars will be available in English, Hindi and other regional languages as well.

Speaking about the initiative, Mr. C Sukumaran, Director, Consumer System Products & Imaging Communication Products highlighted that, "Amidst a global pandemic and lockdown across the country, we believe it is imperative to keep our consumers motivated and engaged. While the current times may feel challenging, our endeavour is to drive home the point that this could be the best time to learn something new and hone your skills in the art of photography. Considering this as an opportunity for the brand and with an aim to flourish the culture of mainstream photography in India, Canon India is organizing the masterclass webinars in collaboration with some of the best talents in the photography industry. Given our focused approach to ensure that the learning curve for photography enthusiasts is maintained, we are certain that these online masterclasses will be well received by our patrons across the country and will help them pursuing their passion for photography."

Canon strongly believes that there should be no reason for people to stop learning new skills in the current lockdown. Each class is being hosted by a professional photographer, sharing in depth knowledge pertaining to their genre of specialized photography. These webinars cover a wide range of topics such as cinematic videos from a DSLR, pro tips on Wedding Photography, Professional Guide to Photography & many more. The first class was conducted by John Edwards on Professional Guide to Cinematic Videos from a DSLR, followed by three more classes covering Travel Photography and Wedding Photography. So far these classes saw a participation from over 5, 000 enthusiasts who thoroughly enjoyed the experience.

Registration link for every class is available on Canon India's official social media handles, with regular communication highlighting the modules and duration of each class

Webinar schedule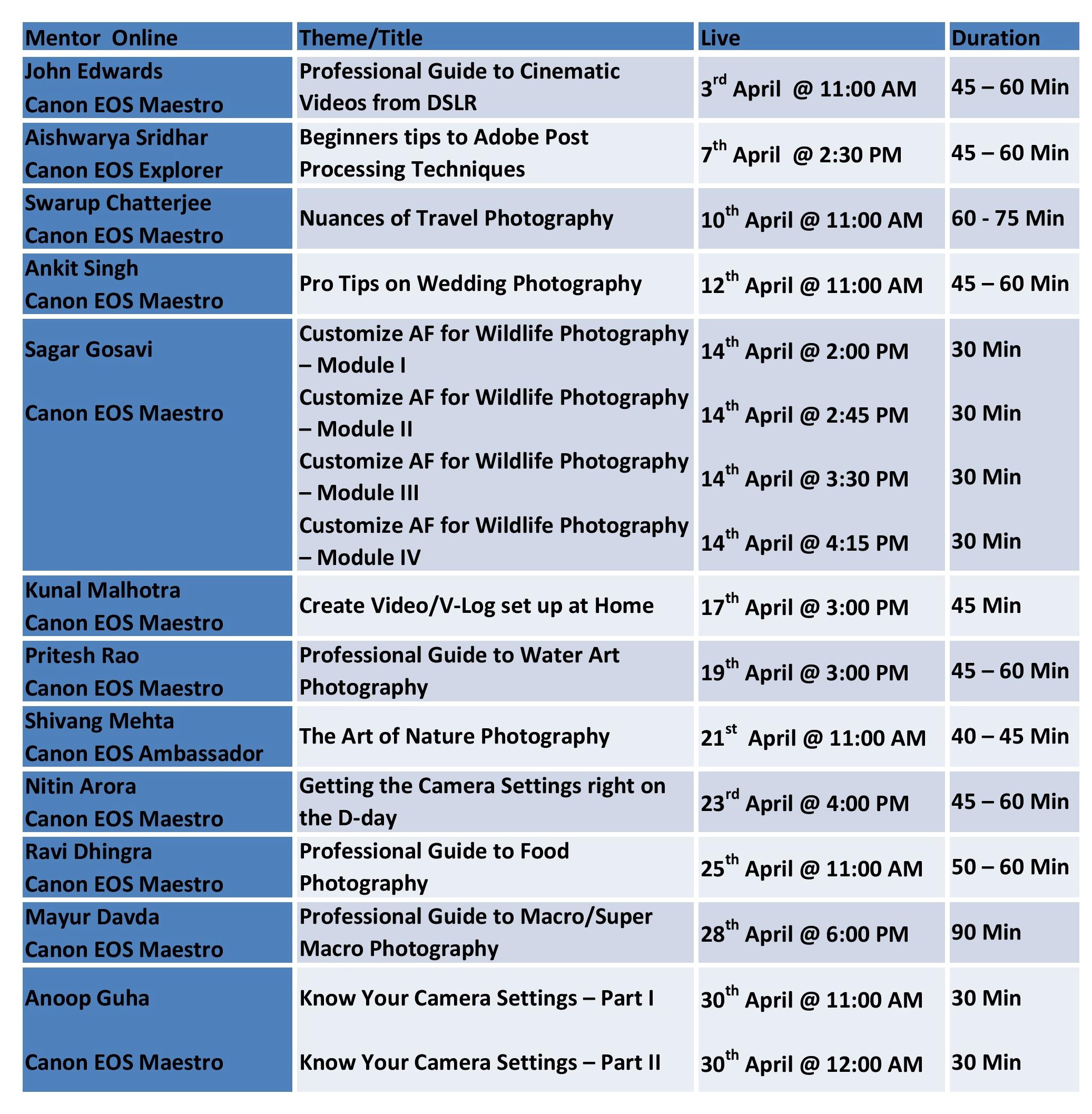 About Canon Group

Ever since its foundation in 1937, Canon is guided by the "Kyosei" philosophy of living and working together for the common good. Canon strives to create and deliver world-class products, becoming a top global corporation by diversifying into new business fields throughout the world. Focusing on optical technologies, Canon produces office equipment, consumer and professional imaging devices, network cameras, healthcare and industrial equipment. Through the close connection between its global head office in Tokyo and regional headquarters in America, Europe, Asia, Oceania and regional headquarters in Japan, Canon combines its global and local operations organically. In 1996, Canon launched its Excellent Global Corporation Plan with the goal of serving the society with advanced technologies and becoming a trustworthy and responsible corporate citizen. The year 2016 was the first year of Phase 5 of the Plan. Currently, Canon boasts a strong global presence of 376 subsidiaries all over the world, supported by 197,776 employees. (Data as of December 31, 2017)

About Canon India

Canon India Pvt. Ltd., a 100% subsidiary of Canon Singapore Pvt. Ltd., is a world leader in imaging technologies. Set up in 1997, Canon markets over 200 comprehensive range of sophisticated contemporary digital imaging product and solutions in India. The company today has offices and warehouses in 14 cities across India and employs over 1000 people. Canon has over 500 primary channel partners, 14 National Retail Chain partners, and over 6000 secondary retail points. Canon India till date has opened over 250 retailer stores accredited as "Image Square" across 100+ cities in the country. Canon India's service reach extends to over 595 towns covering 19,892 PIN codes across India - which comprises of 250 Camera collection points, 16 Camera repair centers, 272 Printer repair centers, 206 Copier, Scanner and Large Format Printer Sales & Service dealers. (Data as of March 13, 2020).

In sync with its corporate tagline- 'Delighting You Always', reinforced by World class technology, Canon offers an extended product portfolio, including copier MFDs, Managed Document Services, Fax-Machines, Printers, Document and Cheque Scanners, All-in-ones, Digital Cameras, DSLR's, Cinematic Imaging Products, Camcorders, Cable ID Printers and Card printers catering to the multiple market segments of consumer, SME, B2B, Commercial, Government & PSUs. In 2017, the imaging leader recorded a double digit growth.