Canon expands the EOS R System with two new lenses –The RF24-70mm f/2.8L IS USM and RF15-35mm f/2.8L IS USM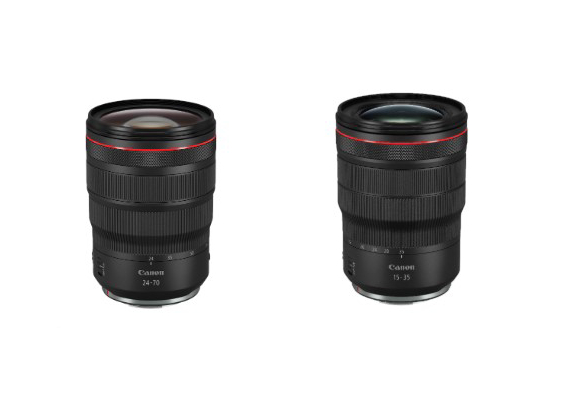 National, 30th Sep 2019 - Canon India, the leaders in the imaging space expanded their EOS R System with the launch of two new RF lenses - the RF24-70mm f/2.8L IS USM and the RF15-35mm f/2.8L IS USM. These lenses are part of the essential trinity of focal range for professional photographers - 24-70mm, 16-35mm and 70-200mm. The two new lenses are Canon's first to have Image Stabilization (IS) in their respective focal ranges and with the constant aperture of f/2.8.
Both lenses cater to a wide variety of photography applications - the RF24-70mm f/2.8L IS USM's versatile focal length range of 24-70mm makes it apt for shooting weddings, portraiture and products while the ultra-wide zoom range of the RF15-35mm f/2.8L IS USM makes it handy for landscape photography, weddings as well as for travel photographers. The premium and versatile L-series lenses are suitable for professionals as well as advanced hobbyists.
The RF24-70mm f/2.8L IS USM and RF15-35mm f/2.8L IS USM zoom lenses will be available in India from early October at the price (MRP) of INR 1 82 995.00/incl. of all taxes (each)
Product Specifications:
​​​​​​​​​​​​​​​​​​​​​
RF24-70mm f/2.8L IS USM
RF15-35mm f/2.8L IS USM
Focal Length
24-70mm
15-35mm
Maximum Aperture
f/2.8
f/2.8
Minimum Focusing Distance

0.21 m (at 24mm),

0.38 m (at 70mm)

0.28m (entire focal length)
Maximum Magnification
0.3x
0.21x
Lens Construction
21 elements in 15 groups
16 elements in 12 groups
Special Low Dispersion Glass
Three UD
Two UD
Filter Size Diameter
82 mm
82 mm
Aperture Blades
9 (circular)
9 (circular)
IS (CIPA Standard Correction Effect)
Yes ( Up to 5 stops)
Yes ( Up to 5 stops)
​​​​​​​Maximum Diameter & length​​​​​​​

​​​​​​​​​​​​​​​​​​​​​approx. 88.5mm x125.7 mm​​​​​​​

​​​​​​​​​​​​​​​​​​​​​approx. 88.5 mm x 126.8 mm​​​​​​​

​​​​​​​Weight​​​​​​​

​​​​​​​Approx. 900g​​​​​​​

​​​​​​​Approx. 840g​​​​​​​
​​​​​​​​​​​​​​​​​​​​​​​​​​​​​​​​​​​
Key Features
Edge-To-Edge Sharpness
The large diameter mount and the short back focus allows a large aperture lens to be placed closer to imaging sensor. This allows the advantage of achieving high image quality due to lesser light bending to achieve low aberrations at periphery. This greatly aids to edge-to-edge sharpness.
The arrangement of three glass-molded aspherical lenses and two UD lenses on RF15-35mm f/2.8L IS USM and three UD lenses on RF24-70mm f/2.8L IS USM ensure reduced lens aberrations and distortions
The ASC coating on both lenses also help to suppress flaring and ghosting, which could compromise image quality
Unique to both RF lenses is the customizable control ring for exposure adjustment; ISO, shutter speed, aperture or exposure compensation. The tactile control ring allows a more precise control
The tiny yet powerful Nano USM focus drive system allows smooth, fast and quiet focusing
Powerful Image Stabilization
Both the RF24-70mm f/2.8L IS USM and RF15-35mm f/2.8L IS USM are equipped with up to 5-stop IS (As per CIPA standards), which makes hand-held shooting possible in lower light conditions where slower shutter speed needs to be used
Combination IS (the in-lens optical IS combined with the in-camera 5-axis electronic IS) enhances the effects of image stabilization even further when recording videos.
Create Beautiful Bokeh with Bright Aperture of f/2.8
The large and bright aperture enable users to shoot with less subject blurring at faster shutter speeds even in low light conditions, such as when photographing at night or indoors
With the versatile focal length range, the RF24-70mm f/2.8L IS USM can be used for various applications ranging from night scenes to portraits. For portrait photography, the f/2.8 aperture can create a beautiful bokeh effect, enhanced by the 9-blade circular diaphragm.
With the RF15-35mm f/2.8L IS USM, users can create images that utilize the ultra-wide perspective of the lens and the blurring of the large f/2.8 aperture, expressing unique views of close subjects
Both lenses feature water and dust resistant construction, so they can still perform in the event of sudden rainfall during outdoor shoots. The fluorine coating on the front and rear elements of both lenses helps to easily repel oil and water stains
About Canon Group
Ever since its foundation in 1937, Canon is guided by the "Kyosei" philosophy of living and working together for the common good. Canon strives to create and deliver world-class products, becoming a top global corporation by diversifying into new business fields throughout the world. Focusing on optical technologies, Canon produces office equipment, consumer and professional imaging devices, network cameras, healthcare and industrial equipment. Through the close connection between its global head office in Tokyo and regional headquarters in America, Europe, Asia, Oceania and regional headquarters in Japan, Canon combines its global and local operations organically. In 1996, Canon launched its Excellent Global Corporation Plan with the goal of serving the society with advanced technologies and becoming a trustworthy and responsible corporate citizen. The year 2016 was the first year of Phase 5 of the Plan. Currently, Canon boasts a strong global presence of 376 subsidiaries all over the world, supported by 197,776 employees. (Data as of December 31, 2017)
About Canon India
Canon India Pvt. Ltd., a 100% subsidiary of Canon Singapore Pvt. Ltd., is a world leader in imaging technologies. Set up in 1997, Canon markets over 200 comprehensive range of sophisticated contemporary digital imaging product and solutions in India. The company today has offices and warehouses in 14 cities across India and employs over 1000 people. Canon has over 500 primary channel partners, 14 National Retail Chain partners, and over 6000 secondary retail points. Canon India till date has opened over 250 retailer stores accredited as "Image Square" across 100+ cities in the country. Canon India's service reach extends to over 579 towns covering 18,150 PIN codes across India - which comprises of 300 Camera collection points, 16 Camera repair centers, 254 Printer repair centers, 191 Copier, Scanner and Large Format Printer Sales & Service dealers. (Data as of August 14, 2019).
In sync with its corporate tagline- 'Delighting You Always', reinforced by World class technology, Canon offers an extended product portfolio, including copier MFDs, Managed Document Services, Fax-Machines, Printers, Document and Cheque Scanners, All-in-ones, Digital Cameras, DSLR's, Cinematic Imaging Products, Camcorders, Cable ID Printers and Card printers catering to the multiple market segments of consumer, SME, B2B, Commercial, Government & PSUs. In 2017, the imaging leader recorded a double-digit growth.