Canon's first 100ppm digital colour press, Canon imagePRESS C10000VP installed in Allahabad
The high growth economies and growing consumption trend in non-metro cities pushes growth for quality and speed in technology adoption.
Digital Printing Demand has been growing quite rapidly in such cities and brings this installation to Allahabad.
Allahabad, June 9, 2017: Designed to elevate quality, productivity and consistency, Canon's first 100ppm colour digital press, imagePRESS C10000VP was installed at Allahabad today. The machine is installed at M/s Classic Printers, renowned printing organization in the city. The production print facility was inaugurated by Mr. Puneet Datta, Director, Canon India.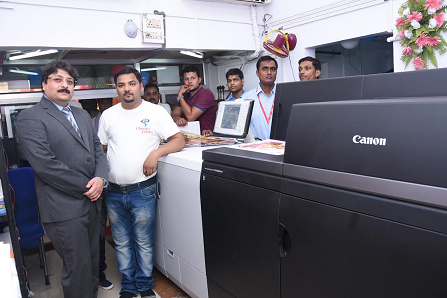 Superior quality, productivity and efficiency of Canon products, have always reaffirmed the customer's credibility in them. Canon imagePress C10000VP since its launch has been a differentiator in the digital press segment, addressing the evolving demands of the professional printing space. Post installing the Canon imagePRESS C10000VP, customers across the country have witnessed close to 40% rise in their revenues which proves the profitable business model this press brings to the printers.
Sharing his thoughts at the second installation of the machine in Uttar Pradesh, Mr. Puneet Datta, Director, Professional Printing Products (PPP), Canon India said, "Markets are in the process of transition from print-first to digital-first and hence, the future of paper and print will be determined by how printing organisations reinvent themselves in the digital-first universe. Non-Mtero cities have been witnessing a high growth in adoption of technologies and even in printing printers want to embrace the latest and best technologies available in the market place and Canon is the first choice for such printers. The time of embrace digital is 'now' for such cities and printing organisations. As the 'best in class' the imagePRESS C10000VP colour digital press is a landmark product in the Professional Print segment. It has been instrumental in allowing our customers to exploit the growth in the colour production market while harnessing the tremendous growth and opportunities digital printing has to offer. Constantly evolving and innovating to stay ahead, Classic Printers is one such market leader that has elevated their services with this installation."
"We have always considered our customers as the motivating force to continuously innovate and bring out new products and service offerings with the vision of partnering together for success. We are eager to support all our customers in moving up the value chain. With the installation today, Classic Printers has taken a step ahead in setting new standards in image quality and productivity."
Sharing his experience at the launch, Mr. Joginder Gupta, Owner, Classic Printers, said, "We started as a small unit almost ten years back and over the years, with support of partners like Canon we have developed in the space of print, service and design. We are a professionally run firm, dedicated to deliver quality work on a wide range of communication. With our in house professional photography and graphic designing department, we provide our customers, economical and high quality prints. Canon has played an imperative role in contributing towards our growth and we are confident that imagePRESS C10000VP with its state of the art technology will further strengthen our endeavor of increased and effective customer outreach."
The imagePRESS C10000VP comes with 2400 x 2440 dpi resolution, a choice of new front end controllers based on EFI Fiery FS200 Pro Platform enables the product to streamline the workflow and media handling capabilities from 60 gsm to 350 gsm. Engineered to deliver production printing excellence for the business advantage of its users, it is designed to meet the increasing demand from both commercial and in-house print service providers (PSPs) for higher production volumes without compromising on quality. It can help commercial printers, in-plants, production hubs, direct mail and transaction print service providers to produce a broader range of applications in shorter turnaround times. With its high quality printing, steady colour and efficiency it has garnered major attention in the Indian print market in less than a year's time, thereby, setting a benchmark in the digital colour printing segment.
The imagePRESS C10000VP Series can deliver outstanding customer output while also benefitting from impressive productivity and reliability. It features intuitive operation and can help maximize uptime with automated calibration. As a future ready printer, manufactured to cater to the dynamic needs of the market, imagePRESS C10000VP colour digital press is a landmark product in the Professional Print segment.
About Canon Group
Ever since its foundation in 1937, Canon has been adhering to the "Kyosei" philosophy and has been striving to create and deliver world-class products, becoming a top global corporation by diversifying into new business fields throughout the world. Focusing on optical technologies, Canon produces office equipment, imaging devices, industrial systems and other products. Through the close connection between its global head office in Tokyo and regional headquarters in America, Europe, Asia, Oceania and regional headquarters in Japan, Canon combines its global and local operations organically. In 1996, Canon launched its Excellent Global Corporation Plan with the goal of serving the society with advanced technologies and becoming a trustworthy and responsible corporate citizen. The year 2016 is the first year of Phase 5 of the Plan. Currently, Canon boasts a strong global presence of 317 subsidiaries all over the world, supported by 189,571 employees. (Data as of December 31, 2015)
Canon in India
Canon India Pvt. Ltd., a 100% subsidiary of Canon Singapore Pvt. Ltd., is a world leader in imaging technologies. Set up in 1997, Canon markets over 200 comprehensive range of sophisticated contemporary digital imaging in India. The company today has offices and warehouses in 14 cities across India and employs over 1000 people. Canon has over 500 primary channel partners, 14 National Retail Chain partners, and over 6000 secondary retail points. Canon has 231 own retail stores called the Canon Image Square across 110 cities in the country. Canon India's service reach extends to over 600 towns covering 16,477 PIN codes across India - which comprises of 300 Camera collection points, 18 camera repair centres, 222 printer repair centres, 262 Sales & Service Dealers.
In sync with its corporate tagline- ' Delighting You Always' , reinforced by World class technology, Canon offers an extended product portfolio, including copier MFDs, fax-machines, printers, scanners, All-in-ones, digital cameras, DSLR, Cinematic imaging products, camcorders, cable ID printers and card printers catering to the multiple market segments of consumer, SME, B2B, Government & Commercial. Canon India recorded revenue of INR 2348.6 crores in the year 2016.